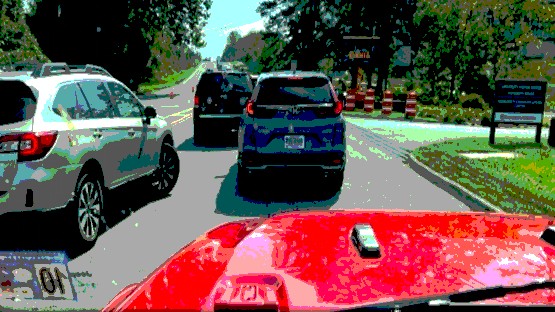 Scott Stadium was 5,000 below capacity for Saturday's season opener with JMU. So, why was traffic backed up on Interstate 64 and the Route 250 Bypass hours ahead of the noon kickoff?
I first hit traffic a mile east of the Ivy exit on I-64 around 9:50 a.m. It took around 45 minutes to make the next three miles from there to the Fontaine exit at 10:30 a.m., but the exit – which I needed to make to get to my parking lot – was blocked, and the state trooper guarding it wasn't allowing anyone to pass, even those with parking passes.
The next mile, from there to the Ivy Road exit, took another 45 minutes, and I finally made it to my parking space at 11:30.
There were still hundreds of cars on the bypass and Ivy Road, hundreds others circling parking lots looking for spaces, as the pregame ceremony honoring the three football student-athletes who lost their lives last year, Lavel Davis Jr., Devin Chandler and D'Sean Perry, began in the stadium, in front of scads of empty seats.
I'm not sure this would be acceptable if the game was a sellout, but that it wasn't, and local and University officials weren't better prepared to be able to handle the traffic, isn't a good sign of things to come from a business standpoint, because, oh, yeah, football is a business.
Other gameday critiques
Free wifi: We were told before the game in a splashy press release that the Ting in-stadium wifi had been upgraded. We're told this every year, and as is the case every year, the in-stadium wifi was barely operable. I was only able to log on with my phone intermittently, and even when I got a signal, it was so slow as to be basically worthless.
Concessions: I didn't experience this myself, because I didn't leave the press box once I got on site, but several fans in attendance reported to me the continued bad experiences with long lines at concessions, lack of food after waiting in lines and general issues with customer service, that have plagued the gameday experience for UVA Football fans for years.
The bad weather eviction: I know this is standard at stadiums across the country, but the protocol for weather delays – to kick fans out of the stadium – makes absolutely no sense, other than for liability reasons for the venue. The hey, there's lightning in the area, everybody leave en masse and go stand in the parking lot solution is intellectually insulting. Another for the long list of reasons for a person to decide not to attend.