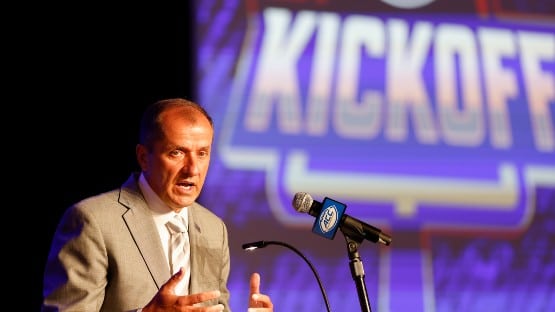 The ACC – new motto: we're third – is open to expansion, according to an ESPN headline, but you don't have to read too far into the story to find out that, no, not really.
"The ACC has been and remains highly engaged in looking at anything that makes us a better and stronger conference," Phillips told ESPN, the ACC's broadcast daddy, in an interview on Thursday at the 2023 ACC Football Kickoff. "We've spent considerable time on expansion to see if there is anything that fits. We have a tremendous group of institutions but if there was something that made us better, we would absolutely be open to it."
Left unsaid there: we haven't found anything that fits.
This, as the Big 12 has found another nice fit with the decision by Colorado this week to return to the fold, after having bolted the Big 12 for the Pac-12 back in 2010.
The Colorado move, which will add CU to the Big 12 in 2024, comes on the heels of that conference adding BYU, Central Florida, Cincinnati and Houston this year.
The ACC, meanwhile, has, in terms of options, not much. The conference has kicked the tires on the likes of West Virginia and SMU, the latter of which seems like a no-brainer, bringing the huge Dallas-Fort Worth TV market into the footprint, but nothing has happened yet, and you have to presume that means nothing will.
No other school seems to make logical sense as being able to add to the current value of the ACC, but the near-term future of the Big 12 looks … interesting.
The Pac-12, now that it's about to lose Colorado, will be down to nine schools next summer, when the already-announced moves of league foundation pieces USC and UCLA to the Big Ten finally comes to fruition.
The Big 12, meanwhile, with Colorado coming on board next summer, is up to 13.
Big 12 leaders are saying they want to get at least one more school on board, though the pending implosion of the Pac-12 could give them the ability to expand to 16, if they want.
That happens, and we'd have to update our motto, slightly.
Damn, now we're fourth.