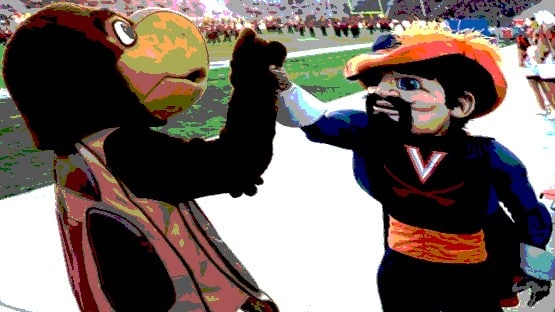 Virginia's quick 14-0 lead was purely fool's gold. Everyone watching should have realized that. The Terrapins are making it a habit of falling behind by two scores before realizing the game had started.
Last week against Charlotte, the 49ers jumped out to a 14-0 lead before Maryland flipped the switch and went on to an easy win.
Tonight, with 4:16 remaining in the first quarter, UVA scored on a 19-yard touchdown pass from Anthony Colandrea to Kobe Pace to take a 14-0 lead.
Yep, the Terrapins had Virginia right where they wanted them.
Unfortunately, reality arrived, and Maryland scored the next 42 points to win easily 42-14.
Being tied 14-all at the break, some might say the final score was closer than indicated.
Some would be wrong.
Maryland was clearly the bigger, the faster, the better team.
Colandrea tossed three second-half interceptions – on three consecutive passes. For three quarters, the first-year QB looked solid, although he began to show some warts on occasions with poor throws and decisions in the pocket.
In the end, it was another loss for Virginia, which fell to 0-3 on the year with NC State heading to Charlottesville next Friday night.
Here are some observations on tonight's loss.
Colandrea shows promise, and inexperience
It's no secret that Anthony Colandrea did not arrive in Charlottesville this past summer expecting to be the starting quarterback. The third string was clearly on his radar.
When Jay Woolfolk said no thank you about the prospects of playing behind another inexperienced offensive line, and perceived starter Tony Muskett was injured, Colandrea went to QB 1. Not ideal on any level of football.
Tonight, Colandrea made some nice plays, and despite the three interceptions, he was not the reason Virginia was blown out. He was forced into trying to make big plays, and had a certain touchdown dropped earlier in the contest.
Puzzling play calling continues
After seeing a 14-0 lead evaporate, tied at 14, Virginia had the ball with 1:20 left before halftime. Instead of attempting to advance the ball down field, the Cavaliers went conservative – three runs, and not using any of their remaining three timeouts Virginia seemed content to go to the lockers tied. Failing to realize Maryland had momentum clearly in its favor. The game may have tilted for good on that strategy.
Cavaliers can't seem to stand success
Speaking of that certain TD pass that was dropped, while the pass was a bit underthrown, Milachi Fields should have made the reception; he was wide open. A completion would have been a huge third-down pickup for the Cavaliers.
In the second half, UVA had a solid sustained drive of 15 plays that had the Maryland defense on its heels. Trailing by only a TD, a score would have been huge. Instead, the drive ended in an interception.
The air on the Virginia sideline appeared to empty.
The Cavaliers just can't seem to sustain any momentum during a game. When you see progress starting to happen, something negative always makes an appearance. Snakebit? Or just not prepared well enough?
The bottom line
The Cavaliers are 0-3 for the first time since 2016. The Cavaliers have not won a football game since beating Georgia Tech in Atlanta.
Without a consistent running game, it really won't matter who's behind the center as quarterback. With a nonexistent running game, the pressure is just going to be worse on the Virginia QB.
The margin of error is so small for Virginia that between the silly penalties and special teams play, it makes winning a football game almost impossible.
Next week NC State, and former Virginia quarterback Brennan Armstrong, invades Charlottesville.
If UVA doesn't clean things up, then it may be a long Friday night in Scott Stadium.