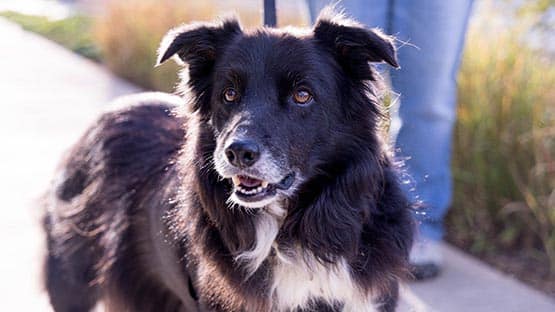 A clinical trial aims to evaluate the safety and feasibility of treating oral cancers in dogs, and potentially humans, with a device that delivers chemotherapy directly to the tumor.
Canine oral tumors vary widely, but malignant melanoma and squamous cell carcinoma are the most common cancerous tumor types.
Currently, the treatment for these cancers is surgical removal, which removes the entire tumor, but surgery is not always practical due to the tumor's location or size. In cases such as these, radiation and chemotherapy are the only other options.
Veterinary radiation oncologist Ilektra Athanasiadi with the Animal Cancer Care and Research Center in Roanoke, one of the Virginia-Maryland College of Veterinary Medicine's three hospitals, is treating an 11-year-old border collie named Bambi.
Brian Martin and his family have owned Bambi since 2012. Last fall, the family noticed a growth in Bambi's mouth and took her to their veterinarian. It was cancer. Bambi's tumor could not be removed entirely and began to grow back after surgery. Because Bambi is an older dog, the Martins did not want to pursue an invasive treatment.
When their local veterinarian suggested the clinical trial, they decided to enroll in the hope that it could extend Bambi's life.
"We had surgery with our local veterinarian in November, but by May, we noticed the lump in her mouth was returning," Martin said. "Our veterinarian gets notifications from Virginia Tech about studies and trials, and they were looking for dogs with cancerous growths in the mouth. So we fit right in."
This study tests a device, developed by Focal Medical, that could increase the effectiveness of chemotherapy by delivering the chemo drugs directly to the tumor instead of into the bloodstream. This system has been used for other cancers, and Athanasiadi hopes it could help dogs like Bambi.
Bambi is still undergoing treatment, but her tumor has shrunk and her mouth looks healthier. Bambi's tissue and blood tests so far have shown that the drug is targeting the tumor and not spilling into the bloodstream.
Martin is thankful the trial has a lot of potential.
"We knew the study might be able to help other dogs, but you know we've been told this might also help humans," Martin said. "So, well, that's pretty powerful stuff."