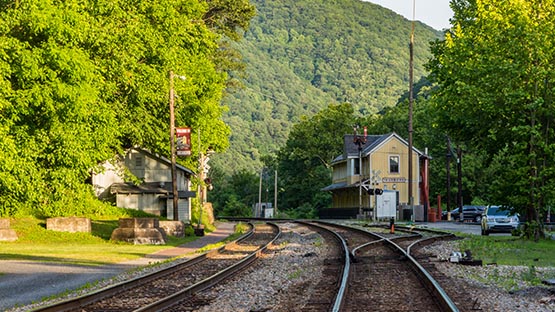 Rail Safety Week is September 18 to 24, 2023, a time to raise awareness of the need for safety near railroad tracks.
Every three hours in the United States, a person or vehicle is hit by a train, according to Operation Lifesaver Inc. (OLI), a nonprofit organization dedicated to rail safety education.
The State Corporation Commission (SCC) joins OLI, state Operation Lifesaver programs, and other rail safety partners throughout North America to raise awareness about the need for pedestrians, motorists, bicyclists and others to stay safe around railroad tracks and crossings.
Lauren Govoni, director of the SCC's Division of Utility and Railroad Safety, and Virginia Operation Lifesaver Coordinator Tracey Lamb encourage Virginians to stay alert, use caution and obey signals around railroad tracks, and to always expect a train.
"Rail safety is much more than just a single tip or slogan," Govoni said. "It's a set of guidelines for different groups of people, including children, first responders, media professionals, photographers, personal and professional drivers, and more."
As part of the annual nationwide campaign, the SCC will partner with law enforcement and organizations throughout the state to promote daily Rail Safety Week themes including commuter and transit safety, crossing safety and professional drivers, trespass prevention and photographer safety. Potentially life-saving information will also be shared on its website and social media pages.
While the 82 percent decrease in collisions nationwide at highway-rail grade crossings during the past 50 years is encouraging, "there is still more rail safety awareness work to do," Lamb said. "Trains can take a mile or more to come to a complete stop. If your vehicle ever stalls on the track, immediately exit your vehicle and call the phone number on the blue Emergency Notification System sign located at the crossing or 9-1-1."
Virginia Operation Lifesaver is administered by the SCC's Division of Utility and Railroad Safety, which offers education sessions and can be reached at 804-371-1588.