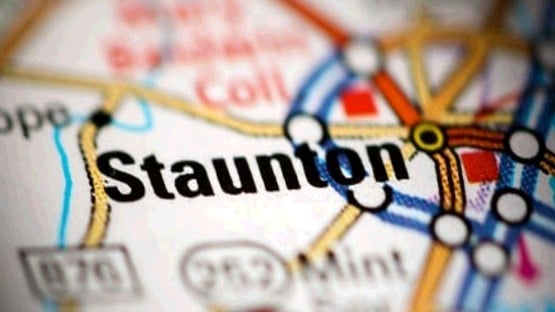 A few weeks ago, I wrote a column in which I alluded to the circumstances which led to my living in Staunton.
This story will confirm believers and make others curious about the mysteries of life.
I, myself, am still curious.
In college, I had a friend who was born and raised in Staunton. A few times I came to visit her in the Queen City while we were students and after graduation in 2006.
I remember I could never quite figure out my way around downtown. I always insisted she drove when we went downtown. This fact is hilarious to me now that I have lived nearly eight years about 10 minutes from downtown and go there alone at least a couple times per week.
After graduation, I worked at a few newspapers. While working at my second newspaper, a weekly north of Richmond in October 2011, my parents, my brother, my sister-in-law and I spent a weekend in the Valley. My sister-in-law, among the first women to graduate VMI, was attending her 10-year reunion that weekend. My parents and I got hotel rooms in Harrisonburg and toured the sights: we had dinner in Staunton at the now-gone Emilio's Restaurant, we drove through the Safari Park, we walked at the Natural Bridge and we toured Monticello.
When we were in downtown Staunton for dinner, I kept thinking: "Wow, I love this place. I've always loved coming to Staunton. I wish I could live here."
Later, I never thought again about my wish. I never imagined it could be even an option. Life never works out that conveniently.
I ended up in southern Maryland for more than two years working at a bi-weekly newspaper. I spent the last year or so job searching and going on interviews in northern Virginia and Washington, D.C. I really wanted to come back to Virginia.
What's crazy? I never applied for the job at the Waynesboro newspaper. The editor at the time reached out to me after seeing my resume on a Journalism site where candidates post resumes.
Even crazier than that, after my interview with the editor in early August 2015, I did not hear back about the job for three weeks.
Then, one night in southern Maryland I was at dinner having a drink with a co-worker. We were celebrating the fact that our editor at the paper there had given her resignation. I told my friend at dinner that I was sad I never heard about "that job in Waynesboro. I guess I didn't get it."
That night I went home and just happened to check my personal email in my one-bedroom basement apartment. The editor had emailed me.
He offered me the job. He said I stood out from the other candidates he interviewed and he thought I would fit in with the rest of his staff.
Another twist in this story is that I initially planned to get an apartment in Waynesboro, but after I was offered the job, that apartment community did not have an apartment available until mid-October. I needed to move in late September.
I contacted an apartment community in Staunton owned by the same management company, which means they had my application I submitted for the Waynesboro community. They had two apartments available when I wanted to move in.
On September 19, I will celebrate eight years as a resident of the Queen City.
Sometimes I still cannot believe how I ended up in Staunton. You never know what life will bring you.
I live 10 minutes from the birthplace of President Woodrow Wilson, one of my favorite presidents. I have always admired his dedication to country despite health struggles and his commitment to create world peace after World War I, at the cost of his health.
I love the Frontier Culture Museum.
I love shopping locally downtown and eating at Shenandoah Pizza, getting gelato at The Split Banana and having an iced Chai at The By & By Cafe.
I am surrounded by local theater options and restaurants. Live music is played every summer in Gypsy Hill Park. All of my doctors are within a 20-minute drive of my apartment.
I love all of this because I grew up in the country and we had to drive at least 30 minutes to do anything.
Best of all, I work from home and get to write about local and national individuals, events and places.
It was just a wish.
But wishes do come true. Maybe it was a bit of that Queen City magic.