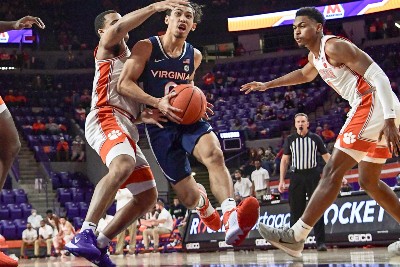 Nobody had Clemson on their ACC regular-season champ bingo card back in the preseason, and even when the Tigers were 7-0 in the conference, the conventional wisdom was, they'll come back to earth.
It's the final week of the regular season, and Clemson (21-8, 13-5 ACC) is a game out of first in the ACC, with a chance to knock one of the other teams a game back, Virginia (21-6, 13-5 ACC) down a peg.
Clemson and Virginia meet on Tuesday night (7 p.m. ET, ACC Network) at JPJ.
The Tigers are coming off a nice bounceback week, with blowout wins over Syracuse (91-73) and at NC State (96-71).
Before that, Clemson had lost four of its last five, including a loss to league cellar-dwellar Louisville, 83-73, on Feb. 18.
The win at State might be the defining win for this Clemson team this season. The Tigers led by 18 midway through the first half and by 25 at the break in a game that was never in doubt.
In that one, Brevin Galloway (11.6 ppg, 45.9% FG, 33.3% 3FG) had himself a day, going for 28 points on 7-of-9 shooting from the field and 10-of-10 shooting at the foul line.
But he wasn't alone. PJ Hall, a 6'10" junior (15.4 ppg, 5.4 rebs/g, 53.8% FG, 39.7% 3FG), had 20 points on 9-of-11 shooting; Chase Hunter, a 6'3" junior guard (14.3 ppg, 4.5 assists/g, 41.3% FG, 36.6% 3FG), had 15 points; and Hunter Tyson, a 6'8" senior (15.6 ppg, 9.4 rebs/g, 49.3% FG, 42.3% 3FG), had 12 points and 11 rebounds.
You can see the matchup problems here. Hall and Tyson will stretch defenders from the four and five spots, creating spaces for Galloway and Hunter to probe the lane, get to the rim and look to the perimeter for open shooters.
But it can be hit-or-miss. As good as Clemson was in the win in Raleigh, in which the Tigers were 10-of-19 from three, they were as bad in the loss at Louisville two weeks ago, which saw Clemson go just 4-of-24 from deep, losing by 10 in spite of getting 28 points from Hall in a game effort from the big guy.
But this Clemson team can also win when the shots aren't going down. Case in point: the 51-50 win over Virginia Tech last month, in which the Tigers were just 3-of-18 from three-point range, but held the Hokies to 34.6 percent shooting and forced 14 turnovers.
Projections
ESPN BPI: Virginia +7.4, 77.9% win probability
EvanMiya: Virginia 69-62, 77.6% win probability
KenPom: Virginia 69-63, 70% win probability
BartTorvik: Virginia 67-62, 70% win probability