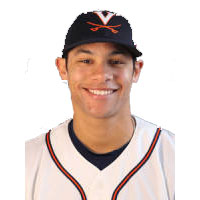 UVa. baseball coach Brian O'Connor can now officially start worrying. The one chink in the armor of the top-ranked Cavs' otherworldly 45-6 run to this point in 2011 is the bullpen, specifically the situation in the ninth inning, which on paper looks quite good with sophomore Branden Kline sporting a tidy 3-0 record, 2.03 ERA and 15 saves.
But a look inside the numbers is revealing as to O'Connor's worries about the ninth inning. Kline has issued 14 walks in 31 innings spread across 24 appearances out of the pen. His 42 strikeouts and .200 opponents' batting average notwithstanding, Kline is a closer with a 1.13/1 WHIP (35 baserunners in 31 innings) who can get burned in one-game situations because of all the activity he sees on the bases when he's on the mound.
Cases in point: Saturday and Sunday in what turned out to be one-run Virginia wins over Coastal Division contender Miami. Kline entered Saturday's 3-2 win in the eighth inning with a 3-0 UVa. lead only to see the Hurricanes fight back to 3-2 and bring the go-ahead run to the plate before Kline could put out the fire that he had started. A similar fate was to befall Kline on Sunday, when a 5-2 lead entering the ninth became a 5-4 nailbiter before Kline could get the third out.
Kline also gave up two runs in the ninth to Coastal Carolina on April 13, but UVa. rallied with three in the bottom of the ninth to win 8-7.
As for O'Connor – as much as I think he should start worrying, he's not concerned, at least publcly, about Kline.
"I am confident that Branden will continue to get the job done for us," the coach said after Sunday's near-meltdown.
Column by Chris Graham