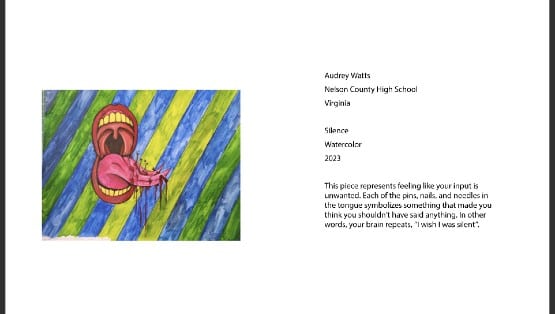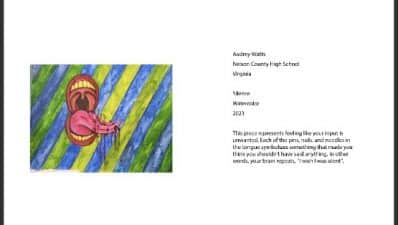 For the first time, Nelson County students will have their art exhibited at a Smithsonian art gallery.
The art of Audrey Watts, Danica McGeehan and Mary Jo Allen will be exhibited in "Vibe Check" at a Smithsonian affiliate site, the Annmarie Sculpture Garden and Arts Center in Solomons, Maryland. The theme of their art is what it's like to be a young person in strange times: relative material prosperity and human knowledge available on a smartphone, the COVID-19 lockdown in earl 2020, economic chaos and the emerging risks of war.
Most of the students' pictures do not relay a feeling of happiness, but express the zeitgeist's pent-up tension and angst.
McGeehan's drawing "represented loneliness or emptiness of some sort," according to the exhibit catalogue (Vol. 2, Pg. 2). Watts' watercolor painting evokes "feeling like your input is unwanted" and "something that made you think you shouldn't have said anything" (Vol. 2, Pg. 82). Allen's psychologically-symbolic drawing "depicts what goes on in the mind…. how the subconscious can attack with hurtful words that can impact mental health" (Vol. 1, Pg. 7).
The juror of the national exhibit, Sarah Cappo, manages teen programs at Washington D.C.'s Hirshhorn Museum, so getting chosen was not easy. Exhibited entries are from as far away as California and Texas.
Getting in to the selective national exhibit wasn't easy: the juror is on the staff of Washington DC's famed Hirshhorn Museum. Some exhibited entries were from as far away as California and Texas. The exhibit runs through March 26, 2023.