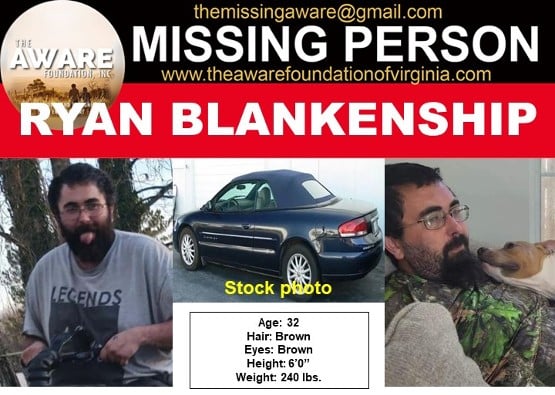 Update: Monday, 6:02 p.m. Ryan "Patches" Blankenship has been located by police, according to a report from The Aware Foundation.
The Chesapeake Police Department is attempting to locate a missing 32-year-old male.
Ryan "Patches" Blankenship was last seen in Chesapeake on Feb. 17th, but his last known whereabouts were in the Staunton and Waynesboro area on Feb 20.
Blankenship has medical conditions that require medication that he is without. He may be in need of medical attention.
Blankenship has several visible tattoos: a penguin on the back of his right hand, a star on the back of his left hand, a batman symbol on his right inner forearm, and a tribal wristband on his right wrist.
He may be driving a black Chrysler Sebring convertible with VA handicapped plates. One of the side mirrors is missing.
If you have any information on Blankenship's whereabouts, contact the Chesapeake Police Department at 757-382-6161.