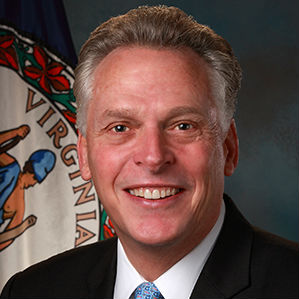 Gov. Terry McAuliffe helped kick off a campaign to encourage farmers to enroll in Virginia's new Resource Management Plan program on Aug. 25. Speaking at the farm of one of the first registrants, dairy farmer Gerald Garber, McAuliffe said the RMP program is a major achievement to assure the future of Virginia's largest industry.
"This is a voluntary program, but if you look at what Gerald has done here, he's protecting our waterways, which is also protecting his herds," McAuliffe said. "So this is a commonsense step that we need to take here to be a leader, to make sure we have sustainability for future farmers, and to make sure that we're encouraging our young children to go into farming."
Enrollment is open for the Resource Management Plan program, which allows farmers and landowners to work with a private conservation consultant to document conservation improvements already in place on their farms and plan future improvements. Once a farmer's RMP is approved, he or she is considered to be in compliance with state conservation regulations for the next nine years. The plans will feature steps farmers can take to reduce soil erosion and runoff, like intensive fertilizer management, fencing cattle out of streams, maintaining buffer strips between farmland and waterways, and using no-till cultivation. Many of those steps also can improve farm profitability, McAuliffe noted.
"This is important for our environment, it's important for our bay, it's important for our rivers in order to continue with tourism, which is our second-biggest industry. So it all goes hand-in-hand," he said.
Every farm in Virginia is different, "and the RMP program gives those producers that want to use that tool a way that they can use those best management practices on their farm. And also, more importantly, verify what they have done and what they're doing," said Steve Hopkins, a Louisa County Farm Bureau member and president of the Virginia Cattlemen's Association.
Being able to track farm conservation practices is important, said Scott Sink, vice president of the Virginia Farm Bureau Federation. "That's one thing we in the agriculture industry have been saying for years, that a lot of best management practices that farmers have been doing just have not been counted in the system."
The voluntary RMP program was developed with input from Virginia's farm community. Virginia is the fifth state in the nation to have such an accountability system and the first state in the Chesapeake Bay watershed to create one. Funding to help producers implement RMPs is available through the Virginia agricultural cost-share program. Farmers can learn more about the RMP program from their local soil and water conservation district staff and the Virginia Department of Conservation and Recreation's website at dcr.virginia.gov.