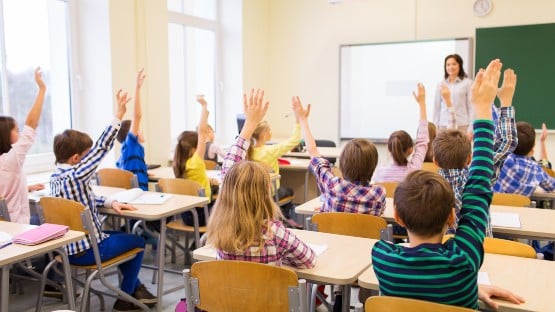 The Success for Military Connected Students Act would extend the maximum student to teacher ratio directive for Department of Defense Education Activity (DoDEA) schools around the world.
U.S. Sens. Bob Menendez of New Jersey, Thom Tillis of North Carolina and Tim Kaine of Virginia introduced the legislation. In the fiscal year 2021 National Defense Authorization Act (NDAA) by Congress, the maximum teacher to student ratio for grades K-3 was set at 1 to 18 and approximately 1 to 24 for grades 3-12.
"Providing support, resources and the best education possible to the children of the selfless men and women that serve in our country's military is the least we can do to show our appreciation for all they do and sacrifice each day. Military families often travel around the United States and the world, and they deserve the peace of mind that their children are receiving a high-quality education designed to ensure their success," Menendez said. "Education is critically important, and when the student to teacher ratio is balanced, the decreased workload increases the teachers' capacity to provide thorough services and care to each individual student."
DoDEA schools have more than 66,000 military children enrolled in 160 schools located in 11 foreign countries, 7 states, and 2 territories. More than 8,000 dedicated educators teach these students. DoDEA schools are responsible for providing quality educational opportunities and services to military dependents around the world who might not otherwise have access to a high-quality public education. The schools have a long and proud history of serving military families dating back to World War II. Studies have shown that maintaining smaller teacher-student ratios ensures quality education for students.
"Department of Defense Education Activity (DoDEA) schools serve thousands of children of American servicemembers," Kaine said. "This bill is critical to making sure students continue to get a world-class education by preventing cuts to staff and increases to class sizes."
The bill is supported by the National Education Association (NEA), Federal Education Association and the American Federation of Teachers (AFT).
"Every day, DoDEA educators have a mission to ensure all military-connected students have the opportunity for an education that inspires their curiosity and enthusiasm for discovery. To meet this goal, engaging students at a high level requires class sizes that enable educators to connect one-on-one with their students," Marc Egan, Director of Government Relations at the National Education Association, said. "On behalf of the 6,000 educators we represent that teach in DoDEA schools, NEA strongly supports the (bill name TBD), which would maintain current student-to-teacher ratios through the 2029-2030 DoDEA academic year. "Year after year, DoDEA educators deliver a world class education to DoDEA students and maintaining current class sizes will continue to provide military-connected students the individualized support they so deserve."
Randi Weingarten, president of the American Federation of Teachers, said DoDEA schools are homes away from home for children of military members and diplomats.
"Educators are the first to tell you that reasonable class sizes allow them to give individualized attention to students, use innovative lessons, and help students develop important social skills. We must preserve what works for military-connected children in DoDEA schools and fight for small classes in all public schools, and this legislation introduced by Senators Menendez, Kaine and Tillis ensuring class sizes stay small helps us do just that," Weingarten said.