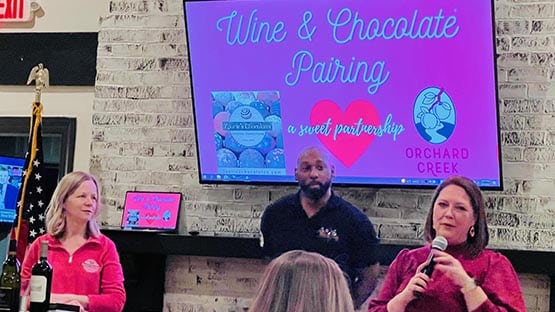 Local chocolatier Laurie Douglass has turned a hobby into a full-time business with Laurie's Chocolates. When AFP chatted with Douglass by Zoom on Thursday morning, Douglass was taking a break from prepping 80 bags of sea salt toffee for delivery to Afton Mountain Vineyards.
In her home chocolate workshop in Staunton, Douglass and her assistant were also preparing for the upcoming Valentine's Day holiday and special events on the calendar.
Several days a week, you'll find Douglass at wine and chocolate pairings or vendor showcases – inviting customers to sample her truffles and toffee made with the finest professional chocolate available, Guittard Etienne chocolate.
"Once you get spoiled on the good stuff, you can't go back," Douglass said.
On Wednesday night, she was at a Valentine's inspired tasting event at Orchard Creek Restaurant in Waynesboro. She joined Food and Beverage Manager Nathan Wallace to share the decadent and unique pairings that included an assortment of milk chocolate, dark chocolate, bark and truffles – paired with both white and red wine selections available at Orchard Creek Restaurant.
The chocolate and wine pairing at Orchard Creek included: 
Orange Hazelnut Bark with Jansz Jasmania Cuvee Sparkling Wine
Aztec Bark with Villa Wolf Riesling Dry Wine
Milk Chocolate Lemon Juniper with Villa Maria Sauvignon Blanc Wine
Milk Toffee with Alto Moncayo Veraton Grenache Wine
Merlot Truffle with Ancient Peaks Merlot Wine
Blue Ridge Bark with Pine Ridge Cabernet Sauvignon Wine
(Hint: If you are trying to recreate the experience at home, be sure to sip the wine before tasting the chocolate, and then repeat.)
Douglass, a petite woman with a Jersey accent and Finklepott glitter fairy extensions in her hair, clearly loves what she does – sharing with participants all the things that make her locally-made chocolates better than the boxed candy you can purchase in a big-box store.
Before Douglass became a top chocolatier, she worked in advertising and marketing and raised her children. On a whim, on vacation in September of 2001, in Beaufort, S.C., she decided to take her first chocolate-making class.
"I had a couple of molds, and back then, I used to buy the chocolate I call melty wafers, which are not real chocolate, they're junk chocolate, and they don't require tempering."
Tempering refers to the process of heating and cooling chocolate to stabilize it for making confections.
Not satisfied with her final product, she continued to take classes on chocolate making and creating new candies in her "tiny" kitchen while her husband worked his day job at a toy factory.
Coming full circle with 'Harry Potter'
Douglass lived in multiple states including New Jersey and Pennsylvania while perfecting her chocolate recipes, but it was in Ohio where she struck gold when she participated in a "Harry Potter" book release event at a family-owned bookstore.
She made chocolate frogs to sell and set up her display in a little storefront on Main Street in Wilmington. Within 45 minutes, she sold out of all the chocolate frogs she had brought to the event.
"I didn't know anything about 'Harry Potter,'" she said. "My kids were too little then. As fast as I made them (the chocolate frogs), I sold them. After that, we read all the books and really got into it. And then when these book release parties happened, I made all the themed chocolates."
She sold so much chocolate at the events that she was able to purchase equipment that was a gamechanger for her business – a tempering machine – a critical piece of equipment that helps her create perfect chocolate without hand tempering the chocolate on a marble stone.
Moving to Staunton brought her chocolate business full circle for Douglass.
She now participates in the Queen City Mischief and Magic festival, celebrating all things "Harry Potter," held in the fall each year in downtown Staunton.
She moved to the Valley when her husband took a manufacturing job here – and has fallen in love with the small-town charm and beautiful views.
"I'm looking out my window, and there's mountains all around, and we have the most beautiful sunrise every morning," she said. "If you look at my website, or my Facebook page, you'll see pictures of sunrises, chocolates and kittens."
Chocolate: The perfect gift for Valentine's Day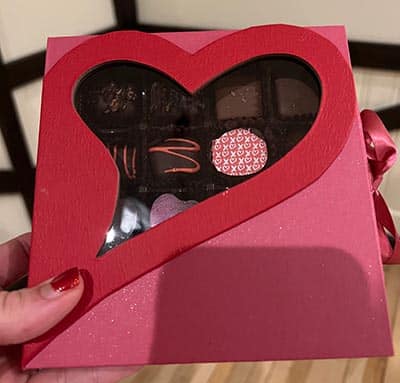 With Valentine's Day next week, Douglass said that chocolate almost always makes the perfect gift.
"Everyone loves it," Douglass said. "There is occasionally a woman who doesn't like chocolate, but it's very unusual. People are becoming more health conscious with the benefits of dark chocolate. I guess what makes chocolate so appealing is that there's a wide range in it … milk chocolate or white chocolate or dark chocolate.
"People want to give unique gifts. If somebody has everything, they don't need any more trinkets or clothing. Chocolates are a perfect gift for them," Douglass said.
Men tend to be last-minute shoppers, Douglass said, so her online sales don't necessarily bump up during the holiday season, but her retail partners certainly sell more of her chocolate this time of year.
"People always assume Valentine's Day must be my busiest season," she said, "but Christmas by far is my busiest season."
Extending the shelf life of chocolate
Barks and chocolate bars, Douglass said, are good for six to nine months, even a year, stored at room temperature as long as the chocolate is in a dry, cool area.
If you want your chocolate to last even longer, she said, wrap them tightly in plastic wrap or a plastic bag or container and freeze them, don't refrigerate them, and pull them out, and let them come to room temperature before you eat them.
Truffles are the exception, Douglass said, with only a two- to three-week shelf life since they are made with no preservatives.
"Most of the time, when I sell truffles to people, they tell me it's not going to last more than a couple days."
Getting into the local event business
Her chocolate confections are available for purchase at several places throughout the Valley (and New Jersey and Pennsylvania) and online including:
Orchard Creek Restaurant, Waynesboro
Barren Ridge Vineyards, Fishersville
Seed to Tail, Staunton
Mountain House Trading Company, Afton
Afton Mountain Vineyards, Afton
Accordia, Staunton
Orchard Creek even hinted Wednesday night that they were putting together gift bags to sell to last-minute shoppers (perhaps golfers) to include wine and Laurie's Chocolates.
Since planting her roots just outside of Staunton, Douglass has been making the rounds at local businesses and wineries – working to do pairing events like the one at Orchard Creek who plans to make the chocolate pairing events part of their regular event schedule – hinting a chocolate and bourbon pairing is in the works.
"I don't have a retail location," she said. "I'm able to do a lot of events."
From the local chapter of the American Wine Society's monthly meeting to wine and chocolate pairings at Seed to Tail Kitchen & Market every Monday from 4-6 p.m., her calendar is full of local events and chances to indulge in her chocolate confections.
Her Tavern and sea salt toffees and flavored truffles are her top sellers – and she could probably just focus on those and still be a full-time job.
With more and more health benefits associated with chocolate, Douglass said enjoying a bite of chocolate each day isn't something you should feel guilty about.
"To me, that's the perfect dessert at the end of an evening with a glass of wine. A truffle. It's just rich, and it's just a little bite of something wonderful."