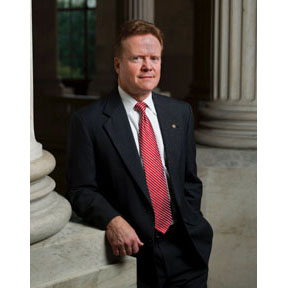 The presidential campaign of former U.S. Sen. Jim Webb is scrambling in the wake of a report that his Born Fighting PAC has paid more than $90,000 for services provided by his wife and daughter.
Webb announced last month that he had formed an exploratory presidential campaign committee, and is considered by some analysts to be a top challenger to former Secretary of State Hillary Clinton for the 2016 Democratic Party presidential nomination.
His Born Fighting PAC, formed during his time in the Senate, ostensibly supports candidates and entities that back economic-fairness and national-security initiatives backed by Webb, a Democrat who served a single term in the U.S. Senate representing Virginia before leaving office in 2013. But according to a report in Business Insider, the PAC has not given any money to political candidates or groups since the end of 2010.
The report in Business Insider, based on a review of campaign finance reports, indicates that the bulk of the money paid to Webb's family members came after the PAC had ceased giving money to candidates and outside groups, and came under headings related to website design, consulting and maintenance services.
Campaign finance reports also show that the PAC had engaged two other entities to design and then later redesign the PAC website.
A Webb spokesperson in a statement to CNN defended the payments, saying the payments were related to a redesign of Webb's personal website and to create his 2016 exploratory campaign committee page.