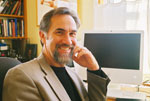 Column by Jim Bishop
Submit guest columns: [email protected]
 
It's a telling sketch.
Local actor-playwright Ted Swartz plays a college student who comes home and tells his father that he decided to change his major from theater to pre-med. "I want to become a brain surgeon," the young man tells his dad.
The father, an avid thespian himself, is devastated. "What in the world are you going to do if this (medical career) doesn't work out?" he cries, and proceeds to try to talk his son out of such an irrational move.
Ted, of Harrisonburg, has experienced firsthand the occupational hazards of making a livelihood on stage – the exhausting creative process, giving it your all even if physically ill, being away from family for long stretches, keeping the specter of the starving artist at bay.
But Ted hasn't traveled this rock-strewn path alone. Between 1987 to 2007, he and his creative partner, Lee Eshleman, the duo popularly known as Ted & Lee, captivated upwards to one quarter million people across the U.S. and into Canada, Kenya and Japan with their trademark quirky, dramatic takes on everyday life – through imaginative monologues, sketches and full-length productions, many on biblical themes, and always liberally laced with wholesome humor.
Ted & Lee became household names, first in Mennonite circles and then spilling across denominational lines as more people came to experience their delightful on-stage presence and performances.
Then, the unthinkable happened.
Ted & Lee were scheduled to perform of "Live at Jacob's Ladder," with actor Jeff Raught, a musical they had written with composer Ken Medema, on May 18 and 19, 2007 at Eastern Mennonite High School. The show didn't go on.
Late afternoon of May 17, Lee, 43, lost a long struggle with depression and took his life at his Harrisonburg home, leaving wife Reagan and children Nicolas, Sarah and Gabe, extended family members and countless friends and fan around the world.
"To say it was devastating is putting it mildly," Ted stated. "I lost my business associate, my long-time creative partner and my best friend – all at once!"
Ted credits his wife, Sue, a teacher at EMHS, his congregation, Community Mennonite Church, and extended family with helping him survive, persevere and work at the healing process.
The 53-year-old artist has moved forward, determined that the curtain will open, the spotlights come up and the interaction between actor or actors and audience continue. He simply wishes at the moment for more patrons at the box office.
Following Lee's death, Ted worked feverishly on new material. He co-wrote four new shows in 2008-09, collaborating with fellow actor-writer music colleagues, including: "Tattered and Worn," an exploration of losing one's faith and finding it again with actor-pianist Jeff Raught of Lancaster County, Pa.; "Excellent Trouble," co-written with Ingrid De Sanctis, bringing biblical pairs to life with all their human joys and heartaches; and "What Would Lloyd Do?", employing the talents of freelance actor-musician Trent Wagler of Harrisonburg and teacher-musician Jay Lapp of Ann Arbor, Mich. He also rewrote rewrote "Jacob's Ladder," which draws on the improvisational gifts of composer Ken Medema.
Back in Harrisonburg recently for a program, Ken said: "I've been privileged to work, to weep and to laugh with Ted and Lee over the years. Their combination of spiritual insights, sound theology and humor developed a new standard for drama in the church community and beyond. We need Ted to keep that standard high."
"I feel a lot of freedom as a solo writer and performer, and I believe some of my best material has evolved more recently," Ted declared. "Lee's passing has fueled my work and gives it a new passion and life as a creative artist. I still enjoy doing some of our older material, but the Ted & Lee brand is gone, and I needed to move on."
Ted is geared up – a "kickstart momentum," he calls it – to present nine new productions and a solo piece, and ah, there's the rub.
The Big Question he asks: "Can this structure we've put together be sustainable – professionally, financially, emotionally – in a challenging economic climate?
"I need to do 100-110 shows a year to make a living," Ted stated matter-of-factly. But I can't keep up the previous pace at this stage of life, and having incurred major financial setbacks doesn't help."
Ted is working with a consultant to develop a fresh marketing strategy and finding the niche for his new material – what direction is appropriate when historically only about 10 percent of his work is currently within Mennonite Church USA. He is also experimenting with different options to replace the graphic "look" that Lee once handled for promotion, playbills and simple stage props.
Ted also credits Sheri Hartzler, the troupe's agent and manager for some 16 years, as "an invaluable support" throughout the readjustment process.
"The biggest adjustment was feeling a lot like we were starting over, only now it wasn't only name recognition but what shows to do," Sheri said. "The difficult economy has directly affected the number of churches and other organizations that are able to book a show."
Sheri believe progress and success for Ted & Co. will occur "as we continue to explore many options for performance such as Ted's solo shows, workshops, spiritual life weeks and weekend retreat events –in other words, using past material in new ways, still trying to get it out into the world while promoting the new shows with other actors."
According to Sheri, "Fish-Eyes" has been the most-booked show in the past and remains the most-purchased script and video. All scripts and DVDs are readily available at www.tedandcompany.com/store.
Ted is enthused about "I'd Like to Buy an Enemy," a one-hour show co-starring Trent Wagler that premiered at the Mennonite churchwide convention last July in Columbus, Ohio. "I think it will appeal to a broader audience," he said.
"I'm addicted to goose bumps and laughter," Ted asserted, "and I feel a spiritual calling to continue sharing these gifts with others. The show will go on."
More information
Contact Ted and Co. toll-free at 866-276-2345 or e-mail [email protected] for information on hosting a Ted & Company performance and to check available dates. Details on all shows, scripts and DVDs are available at www.tedandcompany. Persons can sign up on this website to receive a regular newsletter and blog.