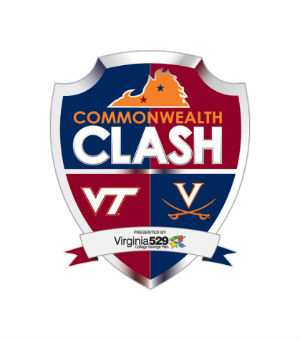 How long has it been since Virginia has beaten Virginia Tech in football? Well, you're familiar with Facebook, of course. Facebook has come to be since the last time the Cavs beat the Hokies on the gridiron.
And, yeah, that's a long time.
"Obviously for the stakeholders, the alumni and fans, it's always about having bragging rights, it's always about what happens on game day and afterwards," UVA football coach Mike London told reporters on Monday.
The Cavs (4-7, 3-4 ACC) haven't won this game against Virginia Tech (5-6, 3-4 ACC) since 2003. That, incidentally, was also before the Hokies began their streak of eight straight seasons of 10 or wins, even before Tech was a member of the ACC.
Not that Virginia hasn't had its chances. In 2008 and 2012, the Hokies won 17-14 in Blacksburg, and in 2014, the 'Hoos led 20-17 with three minutes left before the Hokies rallied to win 24-20.
As recently as 2011, this game was for the ACC Coastal Division title, with both squads going into that year's game with a shot at the ACC title, and Tech leaving as 38-0 victors with the spoils.
The streak stands at 11. It feels like a hundred.
The kids in uniform were in elementary school and middle school the last time UVA won what is now known as the Commonwealth Clash.
Few coaches on the sidelines were around the last time Virginia won the big game.
"The emotion part of it – that is a human element of it. There is going to be emotion," London told reporters on Monday.
The players, by and large, "know each other. They're from the same high schools or communities," London said.
"It's going to be important to keep your emotions to a level that's not going to bubble over into a personal foul penalty or you feel like you're so pressed into making a play, that you allow those emotions for you to do something that you normally wouldn't. So it's part of the game," London said.
On Saturday in Scott Stadium, in front of what is likely going to be a 50-50 crowd, "both sides will be fired up," London said, alluding to the extra bit of emotion that will come with Virginia Tech playing its final regular-season game under head coach Frank Beamer, who is retiring after 29 seasons at his alma mater.
It won't be hard to conjure up emotion and energy on Saturday. The hard point will be keeping the extra stuff in check, "to keep your poise and your emotions in check so it doesn't lead to costly penalties, it doesn't lead to mental errors and missed assignments that sometimes those things do as well," London said.
"Playing a game focused and poised will be important, but you've got to play it with energy, because there will be enough out there," London said.
For London, on the hot seat, and possibly coaching his last game at Virginia, wrapping up his fifth losing season in six years, Saturday also promises to be an emotional day.
"You're coaching against a guy that's going to be in the Hall of Fame and who has done a lot of things in his coaching career. (He) has longevity in a place where it didn't start out well, but being there and staying there, and having it come to fruition, the way he's taking that program, you have a respect for the fact," said London, referencing Beamer's early troubles, which had him on the hot seat after his sixth season, before leading Tech to a 9-3 season in 1993 that turned things around for good in terms of his tenure.
"I'm also kind of an in-state guy myself, as far as middle school, and growing up high school and college, so there is always a competitive aspect of recruiting and playing and trying to be your best," London said. "We have a guy like that that's been at the top for a long time. In any profession you want to be as successful as Coach Beamer has been in the past. So as a young coach, you emulate that. Even as an older coach now, you emulate the fact that his accomplishments speak for themselves."
London likely needs to go out on top to get the chance that Beamer got in 1993, after a season that saw the 'Hoos start 1-3 against a challenging non-conference slate that included a near-miss against Notre Dame and a series of one-score losses in ACC play.
"Obviously there is no doubt it was a challenging season. We had a very challenging schedule. We've played in a lot of close games," London said. "We talked about having played in four that we lost by a touchdown or less. So we played in a lot of games that were close and ended up pulling out and ended up winning," London said.
"Now coming down the stretch here, this being the last game opportunity, you're playing against your in-state rival. It has been talked about as far as how many games they've won. What's going on with the Hall of Fame coach's career and things like that – but the fact of us still having a chance to win a football game at home, have a winning record at home, be even in the conference and send our seniors out on a positive note is something that culminated down to this opportunity on Saturday.
"So it's been a challenging one, but it's been one that we've met face on and dealt with adversity and dealt with the resilience of players. I can truly say that we had a never-quit mentality or attitude. And now you're playing a game that, again, against a Hall of Fame coach at your place. I'm quite sure Scott Stadium will be filled and it will be an exciting game. It's something you want to be a part of, so I look forward to it."
– Story by Chris Graham