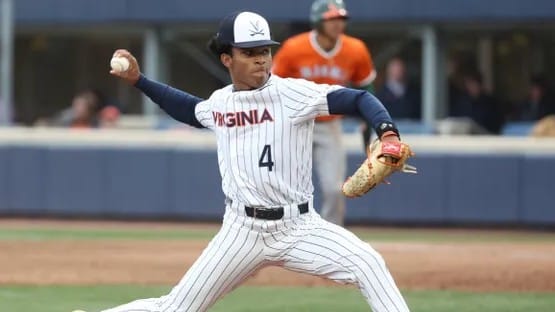 A reader wrote today to ask if I knew what was up with Jay Woolfolk getting literally one pitch in relief in Sunday's 8-3 Virginia win over East Carolina.
The point the reader was making was, is Jay maybe in the doghouse with Coach O'Connor?
My instinct was to agree with Devon Travis, the ESPN analyst – as much as I don't want to agree with much of anything from Travis, who's probably a fine person, but isn't anywhere near good at the TV thing – that what Brian O'Connor was doing there with Woolfolk was more about ECU's lineup having a run of left-handed hitters coming up than anything else.
Setting the scene: Connelly Early was clearly at the end of his rope after giving up a one-out, seventh-inning single to nine-hole hitter Lane Hoover, on his 102nd pitch of the night.
The next batter, leaoff man Jacob Starling, was the only right-handed hitter in ECU coach Cliff Godwin's lineup.
Give Godwin credit, but he stuck with his regular lineup, which has one righty, two switch-hitters and six lefties, against the UVA southpaw.
Woolfolk, who hadn't pitched all weekend, was almost certainly, in my view, coming in just to pitch to Starling, no matter how that at bat turned out.
That Starling ripped a first-pitch Woolfolk fastball down the third-base line for a single that put runners on first and second with one out in the seventh wasn't why, again, my view here, O'Connor came with the hook.
Oak went with lefty Evan Blanco because he was playing the percentages, with lefties coming up in the heart of the ECU order.
Woolfolk did come into last night's game having given up an earned run in each of his past two outings – the ACC Tournament loss to UNC on May 25 and the 8-7 win at Georgia Tech in the regular-season finale back on May 20.
I still don't get the sense that there's any reason to think Woolfolk is in any sort of doghouse.
That said, nobody in the press room asked Oak about Woolfolk postgame, so I can't speak on that with absolute certainty.
Maybe I'll work on seeing if another reporter with a credential will let me ask a question through them moving forward.