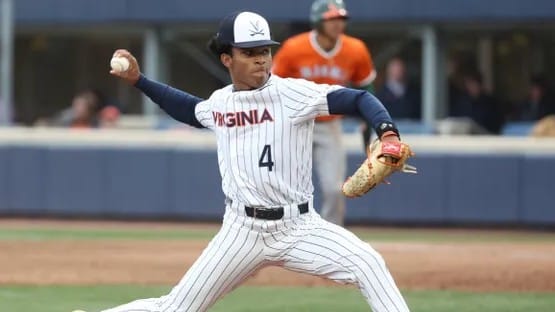 Jay Woolfolk pitched out of a bases-loaded, one-out jam in the bottom of the ninth, striking out the final two Georgia Tech hitters, to preserve an 8-7 Virginia win on Saturday.
The win completes a weekend sweep for #14 UVA (44-11, 19-11 ACC), which clinches the ACC Coastal Division title with the win, the team's 10th straight.
The 'Hoos took the lead for good in the seventh on a solo homer from Jake Gelof, his second homer of the day and his 22nd of the season.
A Griff O'Ferrall single added insurance in the eighth, scoring Henry Godbout to make it 8-6 Virginia.
Woolfolk, on his way to his ninth save of the season, had to scuffle his way through.
Anthony Dispigna, John Giesler and Jackson Finley each reached on one-out singles, with Finley's knock scoring Dispigna from second base.
Woolfolk next walked Drew Compton to load the bases.
The sophomore settled down, striking out Jack Rubenstein and Brandon Prince to close things out.
Virginia's 10-game winning streak comes after a rough patch that had seen the Cavaliers lose seven out of 12, going 2-7 in ACC games, in a three-week stretch.
Up next for UVA is next week's ACC Baseball Championship, which begins on Tuesday in Durham, N.C.