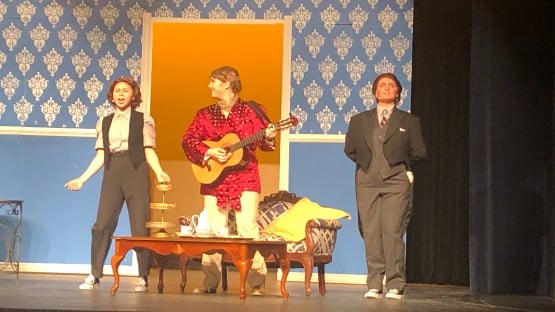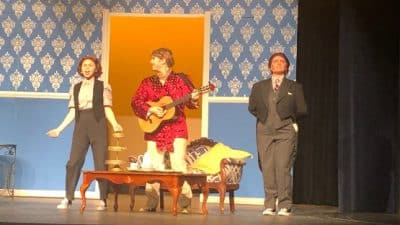 This weekend at the Wayne Theatre, Oscar Wilde takes you back to the 1890s.
And director Lesley Larsen takes you back to the 1990s.
"The Importance of Being Earnest," written by Wilde, the founder of the aesthetic movement of art for art's sake, is the story of a man pretending to be Earnest, whose origins are unknown. Earnest wants to marry Gwendolen Fairfax. And his friend, Algernon, takes up the name Earnest to woo Cecily Cardew.
"It's hilarious. It's considered to be one of the finest comedies ever written," Larsen said.
Originally, the Wayne's production was to be performed in late March 2020.
While 21st Century humor centers around physical comedy, Wilde's humor was verbal banter and subtle hints at the superficial nature of 1890s society and fashion.
"It's called a trivial play for serious people," Larsen said. The production pokes fun at 1890s society and its love of how individuals interact on a surface level with each other. "It's just positively ridiculous," she said.
Why is Wilde's more than 100-year-old play relevant today?
Larsen said today's society puts its superficiality on social media with filtered representations of our lives. "Earnest" shows us what our society is becoming.
"Nothing screams surface-like affection, surface love, surface appearances more than 90s boy bands to me," she said of the production's music. "Think of all these personas that they have to put on in the 90s for their fans."
Boy bands in the 1990s, such as New Kids on the Block, the Backstreet Boys, Boyz II Men, 'NSYNC, 98 Degrees, Hanson, and the British band Take That, kept girls swooning as their songs hit no. 1 on the radio. But, behind the scenes, the members of the bands were real individuals struggling with real issues.
Jonathan Knight of NKOTB later revealed his struggle with anxiety and stage fright. Lance Bass of 'NSYNC later came out as gay. Knight just recently revealed he is also gay.
Larsen said that Wilde was put on trial several times in the late 1890s for being homosexual. He was later imprisoned, sentenced to hard labor and died in 1900.
According to Larsen, The Wayne's production is the first of its kind: the cast is all women and non-binary individuals, no men.
"I don't know of any other company that's done this," she said.
Larsen said she hopes audience members take away from seeing the show how silly we all can be sometimes, and how important it is to find true connections in life.
"I've learned the vital importance of being Earnest," Earnest said at the end of the production after a couple of twists in the plot are revealed. "Of course, that's one thing that you hope people will take away," Larsen said of recognizing how silly individuals can be sometimes. For example, thinking they are in love with someone without having met them.
"It's ridiculous and it's fun, and I'm wanting the audience to have a good time, to embrace Wilde's art for art's sake kind of philosophy with it," Larsen said, while also looking inward at yourself.
Larsen, whose background is in Shakespeare and Renaissance literature, said the Wayne's production is true to the language of Wilde's play, with the addition of music from the 1990s.
Gabrielle Atwood will appear on stage as "Lane," "Algernon's" butler, in her first production with the Wayne. Atwood is a student at Southern Virginia University in Buena Vista.
She said she prepared for her performance by brushing up on her British accent.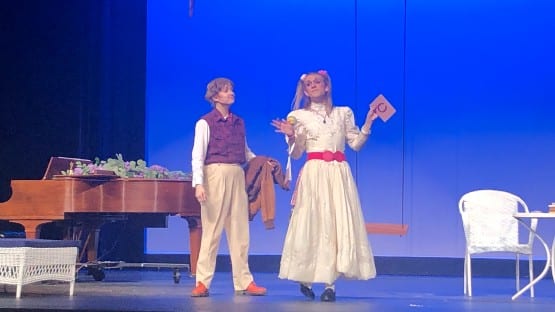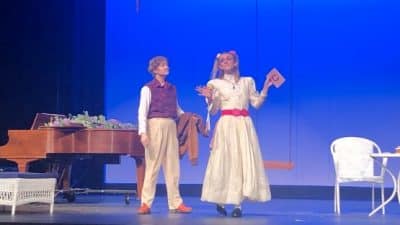 "That's just the standard for Oscar Wilde," Atwood said.
She also watched old television shows and movies to observe the behavior of butlers. She learned how butlers carry themselves, how they act and react to their employers.
"I just try to bring that air about me while I'm on the stage," she said.
Atwood said she hopes audience members pick up on the jokes in the production and have "a really good time."
"It is just such a clever story," Atwood said.
Jennifer Jones is "Doctor Chasuble" in this month's production. Audience members will recognize her from the Wayne's production of "Nunsense." She is the only actor from the original production of "Earnest" that was rehearsed in 2020.
Jones, who lives in Staunton, said she prepared for her role with vocal work, including working on an accent and deepening her voice so she was "really trying to take on a bit of that masculine persona."
Stepping into the character of a man has not been difficult for Jones.
"I love getting to play weird characters," she said. "I really enjoy stretching myself and trying new things. As much as it is always fun to be getting to play the pretty girl on stage, there are also other wonderful roles to get to try."
Jones said she hopes audience members take away from the production the "joy of life's idiosyncrasies."
"The Importance of Being Earnest" is a comedy with no tragedy.
"This is such a fun play. It is a comedy made to be a comedy," Jones said. "There is no huge, tragic thing that has to happen before it's funny."
"The Importance of Being Earnest" will be performed tonight at 7 p.m., Sat., Feb. 18, Friday, February 24 and Saturday, Feb. 25 at 7 p.m., Sunday, Feb. 19 and Sunday, February 26 at 2 p.m.
Tickets are available online.