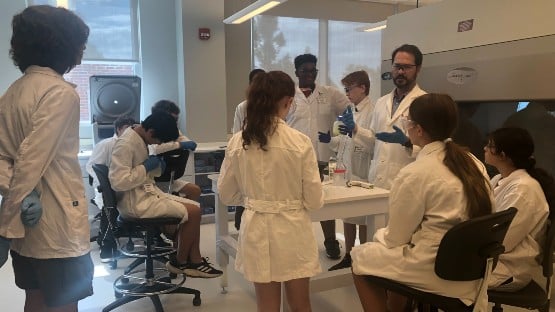 High school students are trying their hands at being scientists this week at Blue Ridge Community College.
Biomanufacturing camp provides hands-on scientific learning with instructor Dr. Reid Harris for the second summer.
Students are learning the process of making a protein drug as if they worked in a pharmaceutical lab. The protein is produced by jellyfish. According to Harris, the process follows what is done to create vaccines.
Ben Smallwood, 14, attends Spotswood High School and thought some of his friends were also going to biomanufacturing camp this summer, so he signed up. When they changed their minds, he didn't change his mind.
"It has been fun," he said.
Ben said he has an interest in pursuing science after high school. He enjoys the hands-on opportunities, such as taking measurements and working with chemicals and scientific equipment. Last week, he and his fellow campers tested objects at BRCC for germs. He swabbed the handicap button.
"Those are covered with germs more than water fountains," Ben said.
Elizabeth "Betsy" Gutshall, 13, a student at Fort Defiance High School, said she was surprised by how much hands-on experience she would get at the camp.
Her interest in camp was piqued after her school took a field trip to BRCC.
"I thought it looked really interesting," she said of working with machines and equipment in the lab.
She hopes to pursue science after high school because she wants to help people.
"I've always kind of wanted to go into the medical field," Betsy said.
Harris, who teaches anatomy & physics and microbiology at BRCC, said that working with high school students last summer and this summer has made him realize "the kind of stuff I take for granted." He didn't realize how much he knows about science that others do not know, and this realization has made him adjust his teaching to be more accessible for all students.
Biomanufacturing camp is a piece of BRCC's Advanced Manufacturing, an introductory course to Biomanufacturing which goes toward a Manufacturing Associate's Degree at the college.
Biomanufacturing is the making of proteins to find ways to fight disease. Human cells are given DNA, which helps cells have instructions for what protein a pharmaceutical company wants to make.
"I've always been very interested in viruses and how they work," Addison Cherry, 14, a student at Broadway High School, said. She became interested in viruses because of the COVID-19 pandemic and "The Hot Zone," a book by Richard Preston about the 1980 Ebola outbreak in West Africa.
Addison hopes to pursue a career in virology. She said she did not expect summer camp to be so hands-on and she did not know cells can take in DNA.
"I like the idea of trying to find new solutions to viruses and pathogens," said Callan Leonard, 14, a student at Staunton High School.
He encourages other students to come try biomanufacturing camp at BRCC.