Perspectives
Happy Insurrection Day: McCarthy bends knee to Trump after Jan. 6 Speaker election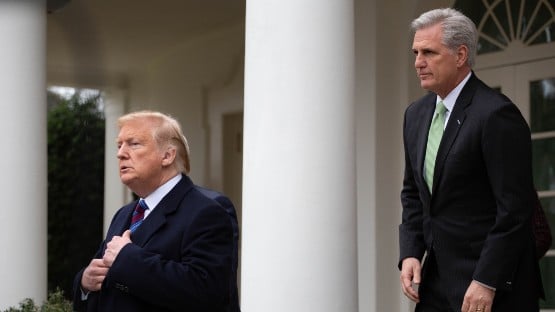 Two years to the day after Donald Trump unleashed an angry mob on the Capitol to try to overturn the 2020 presidential election, the Insurrectionist-in-Chief was being blown kisses by the new House Speaker steps away from where the carnage had unfolded.
"I do want to especially thank President Trump. I don't think you should doubt – anybody should doubt his influence," said McCarthy, after being elected Speaker on the 15th ballot late Friday.
How appropriate, that it was Jan. 6.
Happy Insurrection Day, indeed.
A fistfight almost broke out at the end of the 14th ballot, as Florida Republican Matt Gaetz, who on Thursday had actually nominated and cast the lone vote for Trump to be named Speaker, dramatically voted "present," sending that 14th bid from McCarthy to be elected to a stunning defeat.
McCarthy, earlier in the day, had confidently predicted that he'd have the votes in the late-night voting, and he confronted Gaetz after the "present" vote, and was visibly disgusted as he walked away.
Alabama Republican Mike Rogers had to be physically restrained from going after Gaetz, who sat smugly as the chaos was erupting around him.
McCarthy allies at first responded by calling for an adjournment until Monday, but changed course after some live in front of the cameras for the world to see horse trading that convinced Gaetz, Andy Biggs of Arizona, Matt Rosendale of Montana and Bob Good of Virginia, all members of the "Never Kevin" caucus, to vote "present," clearing the way for McCarthy's election.
It was a fitting cap to an emasculating week for McCarthy, who emerges from the embarrassing display as the first eunuch House Speaker in our nation's history.
The big swinging dick in this analogy is Trump, who McCarthy verbally fellated moments after his election to the Speaker job.
"He really was, I was just talking to him tonight, helping get those final votes, and what he's really saying, really for the party and the country, is that we have to come together, we have to focus on the economy, we've got to focus, make our border secure. We've got to do so much work to do, and he was a great influence to make that all happen. So, thank you, President Trump," McCarthy said.