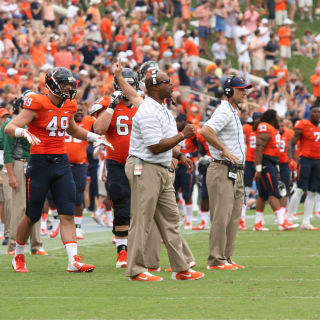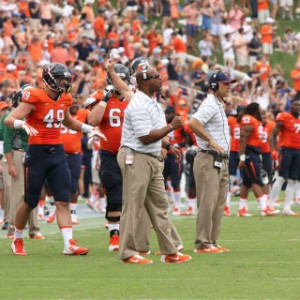 If winning six games was what UVA football coach Mike London needs to do to keep his job, he's a loss away from the moving vans backing up to his office in Bryant Hall.
But athletics director Craig Littlepage hasn't said what London needs to do to stay on other than the vague show improvement line of thought that he used to justify keeping London and his staff on after last season's 2-10 debacle.
If show improvement is all London needs to do, then consider him back for 2015. Virginia gave #2 Florida State all it could handle before falling, 34-20, in Tallahassee on Saturday night, and if not for a bizarre second-quarter sequence that saw the Cavs turn it over on consecutive offensive plays, and the 'Noles turn those turnovers into touchdowns on consecutive offensive plays of its own, this one could have been really interesting.
Which isn't to say that at 4-6, after a 4-2 start, after a 2-10 record in 2013, after a 4-8 finish in 2012, there isn't enough reason to do your due diligence on getting ready to look for the next next guy.
The argument against making that move would be that London has the program on the verge of getting things turned around. Aside from the 35-10 loss last week at Georgia Tech, Virginia has been competitive in every other game this season, with wins over Louisville and Pitt, and tough losses to UCLA, BYU and FSU.
There is clearly talent in the program, and more on the way, with Rivals ranking the 2015 UVA recruiting class at #28 nationally and #7 in the ACC (which, with eight teams in the top 30, is doing some damn fine recruiting these days).
That said, the game planning and in-game decisions by London and his staff continue to put Virginia at a competitive disadvantage. If it's not getting the play call in for a fourth-down play requiring the waste of a second-half timeout, it's throwing a screen pass on fourth-and-seven in the red zone that not surprisingly comes up short. Or calling a pass in the flat inside your own 5 leading to an interception. Not to mention not being able to figure out a way to run the ball on an FSU team that has been giving up yards on the ground, not figuring out all season long how to get the tight ends involved in the offense.
This is an eight-win roster that is stuck on four wins with two to go, against Miami, which is maybe playing the best football in the ACC right now, and at Virginia Tech on Black Friday, against a Hokies squad that is itself spinning its wheels, but nonetheless owns a 10-game winning streak in the series, and has to be a favorite at home against its in-state whipping boy until that whipping boy proves capable of standing up for itself.
Arguably, a change at coach can get this program jumpstarted the way we're seeing JMU just up the road in Harrisonburg has gotten things turned around after a moribund five-year run under former coach Mickey Matthews, who won a national championship at Madison in 2004, beat Virginia Tech in Blacksburg in 2010, recruited like a demon, but couldn't win enough to meet the expectations that he himself had raised.
Everett Withers is winning with kids that Matthews recruited and couldn't scheme to victory, and has JMU on the verge of a playoff berth.
The next next guy (a reference to the continued effort to replace George Welsh, whose shadow is still cast over UVA football all these years later) could breathe some life, and more importantly new schemes, game plans that put the talented athletes wearing the orange and blue in the right places, and the right amount of teaching to help the three-, four- and five-stars on the roster to continue to develop.
My best guess is that Littlepage isn't at all thinking about a next next guy, though. The guy who gave London a lifeline that he hadn't earned for 2014 is ready to give out another for 2015. Even with the loss to Florida State Saturday night, the fact that Virginia was somewhat competitive will, for whatever reason, be enough for Littlepage to stick with London for another long, dispiriting year.
Stasis is the order of the day in Bryant Hall. We still have basketball and baseball.
– Column by Chris Graham