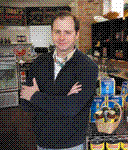 Story by Chris Graham
[email protected]
 
Brian Wiedemann and Katie McCaskey weren't looking for a handout, but a hand up.
"We're into our next growth phase," said Wiedemann, who with McCaskey opened the George Bowers Grocery on West Beverley Street in the heart of Newtown in Staunton in November 2008, and after a harsh winter is in the middle of year two of operations.
The plans that the couple has been working on with help from the Staunton Creative Community Fund include redoing the front counter to allow for a buildup of the nonperishable offerings and a reconfiguration of the floor plan to allow for the expansion of beer, wine and snack offerings near the front entrance.
The Fund, also founded in 2008, has been an important resource to Wiedemann and McCaskey as they've built their business from the ground up.
"Financial support is vital when you're starting any kind of business. But the moral support that they've lent to us, their willingness to sit down and review things as mundane as cash-flow projections and business planning, to have them as a moral supporter, a financial supporter, a sounding board, has been invaluable," Wiedemann said.
"We were experienced business professionals before we started this, but you can't just go into any entrepreneurial venture and anticipate everything. It's been a good mentorship for us," McCaskey said.
The Fund is in its own "next growth phase." "The first year was about organization and getting a few microloans out and the process established. The second year in many ways was about fundraising and being able to aggregate and capitalize. I think year three is about capital deployment and making those loans in the community to support the small businesses that are adding vibrancy to the local economy," executive director Meghan Williamson said.
Williamson came to the SCCF after a stint as the economic-development director in Waynesboro. The Fund takes a unique approach to economic development in offering microloans to businesses like George Bowers Grocery that might have a hard time getting access to capital from traditional lenders. The loans come with significant technical support from the staff and volunteers from the local business community who serve as mentors for the small-business clients who are either looking to get started in business or are looking to expand on what they're already doing.
That's where Judy Williams came into contact with the SCCF. Williams is already in business with her Clean Planet Manufacturing Inc. startup that has business and industry clients for its environmentally-friendly engine reservoir drain plugs. Williams was looking at expanding the offerings to get into the emergency-vehicle-repair and -retrofitting business at the urging of her stepson, Craig, who had built up a skillset and list of possible client contacts in the specialized field from a job with another company.
They found a building that would suit their needs for space to house emergency vehicles while they were being worked on at the old Staunton Building Supply location on Middlebrook Avenue, but the space needed some work to accommodate the plans for Williams Emergency Vehicle Technicians.
"We had minimal lighting and no heat. This was an old warehouse, and they didn't need much light or heat in a warehouse," Judy Williams said.
She found the Fund while doing a Google search for angel networks that match up venture capitalists and small- and medium-sized business entrepreneurs in local markets, and eventually worked out the details of a $12,000 microloan that is "allowing us to move our bookkeeper-office manager, who works very closely with Craig and the mechanics, closer to them so when they need parts ordered or when they need to check on invoices or something like that, they don't need to leave the shop area and maneuver through this office area to meet with her and then go back down and go back to work. The money has been very helpful," Williams said.
Promoting and fostering the development of small business is all the rage in economic development these days, but the Staunton Creative Community Fund puts the theories into practice.
"Small business is a big part of our future in Staunton. We realized that we're never going to have the really large national companies based here. We also realized that smaller rural cities that have pretty good assets like we do here in the Valley were going to have to become more self-sufficient and work more to build your business development within as opposed to just trying to recruit, recruit, recruit," said Bill Hamilton, the economic-development director for the City of Staunton and one of the driving forces behind the creation of the Fund.
The SCCF now has $500,000 in lending capacity that is disbursed into the community in the form of low-interest loans to startups and existing small businesses. The Fund can be more agile than banks in its dealings with its clients, but in the end it has to be able to get a return on the money that it lends out in order to be able to stay in business itself.
Even with that bottom-line focus, the Fund has set for itself some ambitious goals in terms of the kind of community impact that it wants to have.
"What we're doing is shifting from thinking about the kinds of loans that we can do based on our funding source to start marketing based on industries that add vitality and development potential to the local community. And that's everything from creating jobs to revitalizing underdeveloped neighborhoods to encouraging sustainable and green development to attracting high-quality jobs to the central business district," Williamson said.
Williams Emergency Vehicle Technicians does service and custom-retrofitting work for emegency-services companies throughout the Mid-Atlantic and does its work in a repurposed builing-supply warehouse. George Bowers Grocery repurposed another abandoned building into a community grocery for Newtown residents giving them another option to having to get into their cars to get a sack of sugar or snacks or staple grocery supplies.
Now it's on to the "next growth phase" for the Staunton Creative Community Fund.
"We're now doing some pretty significant community outreach in terms of supporting green industries and local-food networks and sustainable-energy technologies," Williamson said, noting that when the city put together its enterprise-zone program for the 2010 designation round, "one of the things they did was specifically incorporate a local incentive that would serve to attract those creative and innovative businesses to the city."
"That includes architects, engineers, information technology, marketing firms, communications, design firms, you name it. And one of the things that we're doing is we're partnering with the city on its enterprise-zone program to provide low-interest loans to help attract those creative and innovative businesses into the Staunton enterprise-zone program," Williamson said.
 
 
Read The New Dominion online