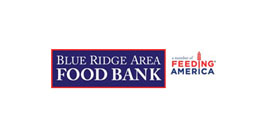 Buying unhealthy, inexpensive food is one of the most common ways that client households of the Blue Ridge Area Food Bank stretch their dollars, a recent study of hunger reveals.
According to Hunger in America 2014, a study recently released by the Blue Ridge Area Food Bank (BRAFB) and commissioned by Feeding America, 85 percent of households served by BRAFB bought unhealthy, cheap food as a coping strategy to get enough to eat.
The same study found a high prevalence of diet-related diseases among Food Bank clients.  Over half of client households reported having a member with high blood pressure and one-third reported having a member with diabetes.
Therefore, fresh, unprocessed food has become increasingly vital to the wellbeing of individuals and families that BRAFB serves. To increase the amount of fresh produce it provides to neighbors in need, the Food Bank is expanding its main distribution center to include a produce cooler capable of storing 72,000 pounds of fruits and vegetables at any one time.
"Nearly half of the clients surveyed reported that someone in their home was in poor to fair health," said food bank CEO Michael McKee. "We are committed to doing our part to help our clients improve their wellbeing with healthy, nutrient-dense, fresh vegetables and fruit."
About Hunger in America 2014: Hunger in America 2014 is a series of quadrennial hunger studies, and the largest and most comprehensive of its kind. Commissioned by Feeding America, the nation's largest domestic hunger relief organization, the study was conducted and produced by the research vendor Westat, along with The Urban Institute. The Blue Ridge Area Food Bank is one of 200 Feeding America member food banks that participated in the study. Hunger in America 2014 covers data collected between October 2012 and August 2013.
View the full Hunger in America 2014 report for the Blue Ridge Area Food Bank here. View the national study at www.feedingamerica.org/hunger-in-america.
About the Blue Ridge Area Food Bank: Founded in 1981, the Blue Ridge Area Food Bank is the largest organization alleviating hunger in western and central Virginia. Headquartered in Verona, VA, the Food Bank serves 25 counties and nine cities through distribution centers in Charlottesville, Lynchburg, Winchester and Verona. The Blue Ridge Area Food Bank distributes more than 24 million pounds of food annually to 114,000 people each month through a network of 224 community partners — food pantries, soup kitchens, shelters, schools, churches and other non-profit groups. The Food Bank is a member of Feeding America, a national food bank association that supports more than 200 food banks across the United States. For more information, visit www.brafb.org.