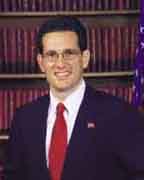 Seventh District Republican Congressman Eric Cantor, after his shocking upset loss in a June party primary, is resigning his seat effective Aug. 18 and is asking Gov. Terry McAuliffe to call a special election to fill the seat.
The push from Cantor, the former House Majority Leader and one-time heir apparent to House Speaker John Boehner, is for a special election to coincide with the Nov. 4 general election to allow the winner to take office immediately, which the surprise winner in the GOP primary, Dave Brat, is very much open to.
"If I'm fortunate enough to be chosen by the people of the Seventh District to be their next Congressman, I'll come to the office on November 5th ready to serve," Brat said in a statement.
Brat will face Democrat Jack Trammell in the November election in the strong-Republican Seventh District. Both are professors at Randolph-Macon College.
Cantor told the Times-Dispatch in an interview Thursday that he is stepping down to allow his successor to represent the district in the lame-duck session between the November election and the start of the next Congress in January.
"I want to make sure that the constituents in the 7th District will have a voice in what will be a very consequential lame-duck session," Cantor told the T-D.
Larry Sabato, director of the UVA Center for Politics, said Cantor deserves some credit for that "generous gesture," but then added that it is likely that it's highly probable that he has a very lucrative deal in the works for his post-Congress life, and he's eager to get started."