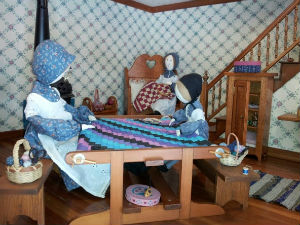 You've probably noticed a child's wonderland in the window at 329 West Main Street. Miniature in scale but extremely large and detailed by traditional dollhouse standards, the Moss Dollhouse is well-known and well-loved.
Built by an Iowa hobby woodworker and his wife in the early 1990s when the P. Buckley Moss Museum opened, it is constructed from oak and other hardwoods at a scale 3″ to one foot with a porch, five rooms, a staircase and all the scenes of typical farmhouse life. The master craftspeople who constructed the house became friends with the artist after being given a print of her work in the 1980s: Joe Waterbury, an auto recycler by day, then decided to design and build a few pieces of small  furniture for the couple's growing collection of Moss dolls. When Joe and his wife Ellen visited Pat during a show, they brought a few examples. Joe recollected, "I also do matting and framing [for pictures]…and [Pat] recognized my frames." She took a liking to his diminutive furniture creations, too. In fact, Pat was so impressed with Joe's fine craftsmanship, she initially requested that he build more doll furniture for the conventions she was attending to display her work.   That, in turn, grew into the idea for a traveling dollhouse.
Pat Moss recalls:
'The dollhouse is a work of art in itself, with a miniature clock that keeps time and chimes eachhour; handmade furniture designed to stay together with dowels and joints, no glue required; and miniature paintings that I added myself.  Over the years, staff at the Museum have added their own personal touches, such as vegetables on the porch in the summer, pumpkins in the fall, and a tree at Christmas.  Many visitors amuse themselves by finding and counting the glass and wooden mice hidden in nearly every room of the house.  The exact number of mice in the house changesfrequently in case there are repeat visitors.  Counting mice is entertaining for youngsters and the young at heart alike.  Visitors who find all the mice are given a reward for their efforts.'
With the closing of the Moss Museum, the dollhouse has found a new home, proudly displayed in the window for all passersby to enjoy at the new P. Buckley Gallery, 329 W. Main Street in  downtown Waynesboro (open 10 – 5 Mon – Sat & 12:30 – 5 Sunday). Mr. Danny Glenn of Stuarts Draft has been working diligently for several weeks to update the house to fit its new home. He has shortened the roofline to fit into the display space and is now in the process of shingling the roof and building the soffit to scale. His efforts have attracted the attention of downtown visitors, who wonder how he can possibly cut, nail and finish the roof under such tight conditions. Mr. Glenn notes, "It's a hard fit and the work is precise, but it's worth it when I'm finished. Plus, I'm using small tools! It's been my pleasure to work on this project, as it's a true piece of craftsmanship." Children and those young-at-heart will revel in dollhouse still life (remember to count the mice!), while Gallery visitors marvel at the fantastic prints and framed art beloved around the world.