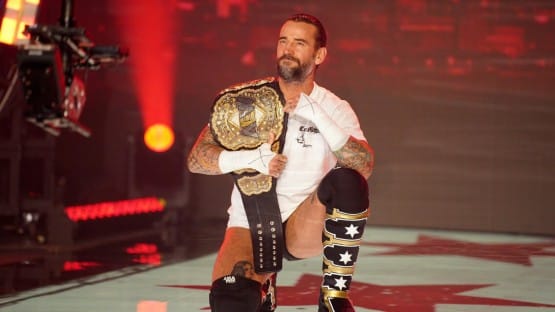 Last night's AEW "Dynamite" was a fine show – OK, it was barely an average "Rampage" – but the broadcast featured the most impactful 10 or so seconds of TV for the company this year.
That came when AEW CEO Tony Khan confirmed via pretape that megastar CM Punk will make his return at the debut of "Collision" on Saturday, June 17.
The return of Punk had long been rumored, then debunked, back and forth and back again over the past several weeks, the reports on Punk's status for the "Collision" premiere and thereafter changing seemingly by the minute.
Punk has been out since suffering a torn triceps in his AEW world title win over Jon Moxley at the September 2022 "All Out" pay-per-view, after which he went on an apparently unscripted tirade blasting "Hangman" Adam Page, Kenny Omega and Matt and Nick Jackson, ahead of a locker-room melee that led to suspensions for those involved and months of speculation afterward about Punk's AEW future.
It still remains to be seen how Punk will be used going forward.
It had appeared that he was headed for a program with MJF, who went on to win the AEW world title from Moxley at the "Full Gear" pay-per-view in November, so a Punk-MJF match for the "All In" show in Wembley Stadium in front of what will be by far the largest crowd in AEW history could be in the offing.
A feud with Page, Omega and the Jacksons would also make sense, and untold millions, if Khan were to be able to convince the apparently real-life enemies to work together for the common good.
That Khan felt compelled to give away the secret about Punk's return ahead of the June 17 "Collision" debut says something about how big this summer is for AEW.
Insert the names of your favorite wrestling podcasts and dirtsheets here have been using the Punk-AEW story to paint Khan as being out of his element as a promoter and executive, and the uncertainty over Punk's status has been hurting business, if not in the UK, definitely in North America, with a sea of empty seats at last weekend's "Double or Nothing" pay-per-view, and slow sales for upcoming live "Dynamite" and "Collision" broadcasts and weekend house show events.
The confirmation from Khan that Punk is officially back in the fold is a signal to fans that Khan wants the focus on AEW to be on the product, not what is or isn't going on behind the scenes.