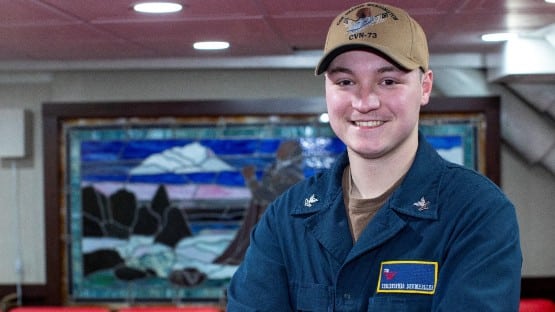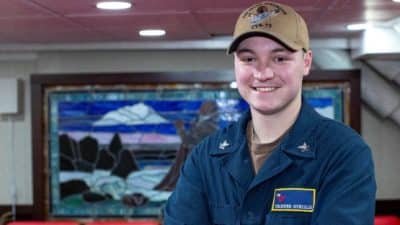 Petty Officer 2nd Class Christopher Drumheller, a native of Charlottesville, was recognized March 29 as Warfighter of the Week aboard the Nimitz-class aircraft carrier USS George Washington (CVN 73).
Warfighter of the Week is a command program where the ship's captain personally recognizes an exemplar sailor for their accomplishments. Drumheller's relentless determination always inspires his peers and represents the "Spirit of Freedom," the ship's nickname.
"The satisfaction I get from helping people in my work gives me the motivation to keep going," Drumheller, a 2019 graduate of Charlottesville High School, said.
He joined the U.S. Navy more than three years ago and currently serves as a religious program specialist.
USS George Washington is undergoing refueling and complex overhaul (RCOH) at Newport News Shipyard. RCOH is a multi-year project performed only during a carrier's 50-year service life, and includes refueling the ship's two nuclear reactors, significant repairs, upgrades and modernization.
USS George Washington is named after the first president of the United States. The ship's motto is "First in War, First in Peace."