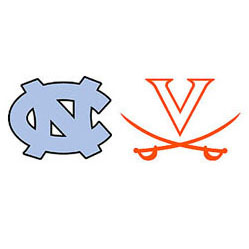 Two weeks ago, UVA football stock was up, UNC football stock was down. Virginia was 4-2 and alone atop the ACC Coastal Division, North Carolina was 2-3 and on its way to a sure beatdown at Notre Dame.
Fortunes can turn quickly in college football, as we all know. The 'Hoos lost at Duke last weekend, 20-13, in a game that came down to the fourth quarter, the Tar Heels led in the fourth at Notre Dame before losing, 50-43, and then UNC surprised Georgia Tech at home last weekend in another shootout, 48-43.
The two teams enter Scott Stadium in Charlottesville, Va., this weekend heading ever so slightly in different directions, with one commonality: it's a must-win game for both sides.
For Virginia, a loss to North Carolina, which has won the last four in the series by an average score of 38-14, could precipitate a downward spiral that itself could lead to the downfall of the Mike London administration on Grounds, with three of the last four on the road (at Georgia Tech, at Florida State, at Virginia Tech) and surging Miami the last remaining home game providing a murderer's row of tough tests to finish out the schedule.
For UNC, a loss forces the Heels to win three of its final four (at Miami, home against Pitt, at Duke, home finale with NC State) just to qualify for a bowl, which even at 6-6 would be a big step down for a team that was a preseason national Top 25.
How this one shakes out:
Offense: UNC is jaw-dropping good, scoring 38.7 points per game, putting up 453.1 total yards per game, 300 through the air, 4.1 yards per carry on the ground. Turnovers have been a bit of an issue (13), with opponents scoring 77 points this season off UNC turnovers, an astounding 11 points per game. Quarterback Marquise Williams is the engine, throwing for 1,776 yards with a 64.5 percent completion rate, 15 touchdowns, six interceptions, a 141.6 passer-efficiency rating and 448 yards and six touchdowns on the ground. UVA's numbers are as gawdy, but they're not bad: 29.0 points per game, 407.3 yards total offense per game, 235.6 yards passing per game, 4.3 yards per rush. The 'Hoos have committed 15 turnovers, but opponents have scored just 37 points off those turnovers (21 of those on a trio of pick-sixes in the second quarter of the opener against UCLA), a nod to the defense for being able to stand up in quick-change scenarios. The line has been solid, both in opening up holes for the running game and in protecting the QBs (five sacks allowed, second-lowest in the ACC).
Defense: As good as UNC is on offense, they are that bad or worse on defense, allowing 43.3 points and 522.3 yards total offense per game. Opponents convert 50 percent of third downs, though the Heels have forced 16 turnovers and registered 13 quarterback sacks, so there are times they actually do get off the field without the band playing. The strength of the UVA squad is clearly its defense, which gives up 22.1 points and 331.3 yards total offense per game, and stifles opponents on the ground (3.0 yards per carry allowed). The D has forced 19 turnovers, though of note it didn't record a turnover in losses at BYU and Duke.
Special Teams: UNC placekicker Nick Weiler doesn't hear his name called for much more than PATs. He's just 5-for-6 on the year with a long of 23 yards. Punter Tommy Hibbard averages 41.0 yards per punt, and the UNC kick-coverage and –return teams are near the top of the ACC across the board. UVA kicker Ian Frye is 14-of-16 this year with a long of 47, and punter Alec Vozenilek averages 43.9 yards per boot.
Outcome: The stat trends point to a UVA win. The Carolina defense is historically bad, and the Virginia D has availed itself well even in the team's three defeats, stifling three pretty good quarterbacks (UCLA's Brett Hundley, BYU's Taysom Hill and Duke's Anthony Boone). That said, something doesn't feel right about this one to me. Gut feeling is that UVA coach Mike London is going to make a change at quarterback back to opening-day starter Greyson Lambert, who has missed the past three games after injuring his ankle late in the loss at BYU. Lambert wasn't showing progress in his four starts, either unable or more likely just unwilling to try to get the ball downfield, allowing opposing defenses to cheat up to clog up running lanes and jump routes on short and intermediate pass routes.
This is the recipe for disaster on Saturday. Going back to a shaky Lambert to change the offensive dynamic in a game that can turn into a track meet quickly if UVA turns the ball over early. Few teams are going to outrun the Tar Heels on any track, and while the 'Hoos are much improved on offense, they can't afford to get behind early.
Final: UNC 37, UVA 28
– Column by Chris Graham