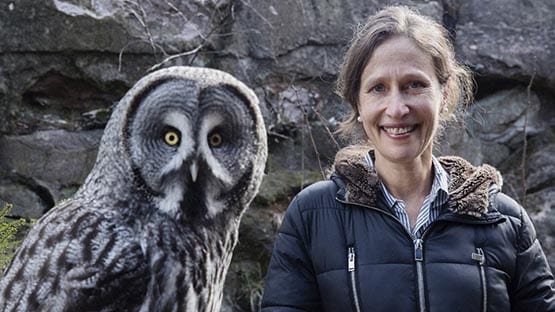 New Dominion Bookshop will host a book talk and signing with New York Times bestselling author Jennifer Ackerman on Friday, June 23, at 7 p.m.
The talk will take place at the Irving Theater in the CODE Building at 225 W. Water St. in Charlottesville.
Ackerman will be speaking about her new book, What an Owl Knows: The New Science of the World's Most Enigmatic Birds, which will be released from Penguin Press/Penguin Random House in mid-June.
This event is free to attend and open to the public.
Doors will open at 6 p.m. Attendees should use the theater entrance on Water Street.
Ackerman's latest book is a scientific investigation into owls and why they exert such a hold on human imagination. Ackerman brings this research alive with her own personal field observations about owls and dives deep into why these birds beguile us. What an Owl Knows is an exploration of owls across the globe and through human history, and an account of their astonishing hunting skills, communication and sensory prowess. By providing extraordinary new insights into the science of owls, What an Owl Knows pulls back the curtain on the nature of the world's most enigmatic group of birds.
Ackerman has been writing about science and nature for more than three decades. Her previous book, The Bird Way: A New Look at How Birds Talk, Work, Play, Parent, and Think, was a finalist for the PEN/E. O. Wilson Literary Science Writing Award. Her New York Times bestselling book, The Genius of Birds, has been translated into 25 languages and was named one of the best nonfiction books of 2016 by The Wall Street Journal, a Best Science Book by NPR's "Science Friday," and a Nature Book of the Year by London's Sunday Times.
Her other books include Birds by the Shore: Observing the Natural Life of the Atlantic Coast (a 2019 reissue by Penguin Press of her first book, Notes from the Shore), Sex Sleep Eat Drink Dream: A Day in the Life of Your Body, and Chance in the House of Fate: A Natural History of Heredity.
Ackerman's articles and essays have appeared in National Geographic, The New York Times Magazine, Scientific American and many other publications.
She is the recipient of numerous awards and fellowships, including a National Endowment for the Arts Literature Fellowship in Nonfiction, a Bunting Fellowship, and a grant from the Alfred P. Sloan Foundation.
For more information, visit ndbookshop.com.