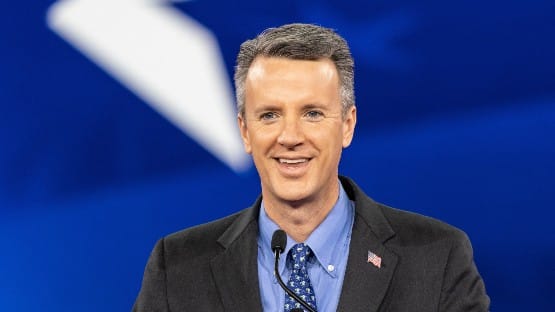 A gunman armed with an AR-15 and outfitted in tactical gear killed eight people and wounded seven others at an outlet mall north of Dallas on Saturday – just another day in America, right?
Congressman Ben Cline, he of that stellar 100 percent career NRA vote rating, couldn't even be bothered to offer "thoughts and prayers" to the families of those souls who were mowed down.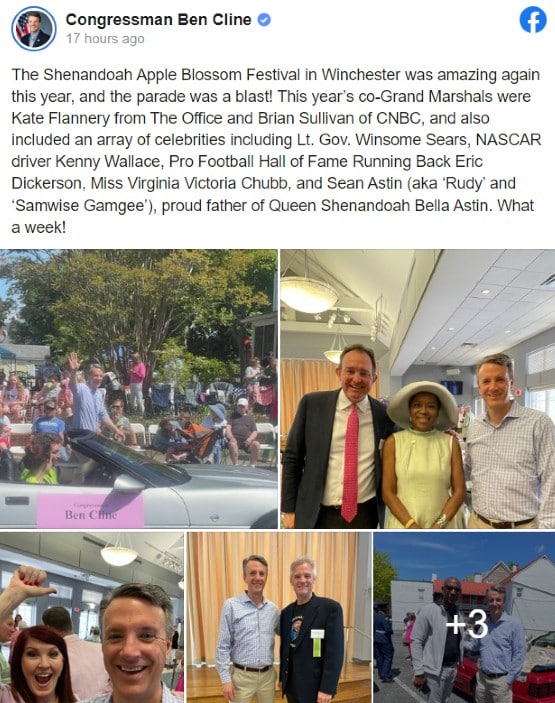 The Sixth District Republican, per his Facebook page, was busy taking part in the Shenandoah Apple Blossom Festival on Saturday.
Nothing wrong with that.
It was a nice day to get out.
According to his Facebook post, Cline was able to meet up and hang out with the likes of Hall of Fame running back Eric Dickerson, Sean Astin, the guy who played "Rudy," Kate Flannery from "The Office."
Kind of a hodgepodge of D and E list celebrities there, but it's the Apple Blossom Festival, you take what you can get.
The first comment under the post about the awesome day the congressman had should have drawn his attention to what was going on down in Texas.
"ANOTHER MASS SHOOTING TODAY," Roanoke native Zachary Moore wrote. "More kids shot. How many children have to die, Congressman, before you stand up to the NRA and actually do something to stop it? What's the number?"
Front Royal resident Nancy Smith commented: "more thoughts and prayers."
Jerry Jorgensen, from New Market, replied to Smith: "Which are not working," then added a second comment citing data from the Kaiser Family Foundation on the number of children killed by guns in 2020.
The number for the United States: 4,357.
The next highest number internationally: 48, in Canada.
This is a uniquely American problem, and no, the solution isn't "thoughts and prayers," it's not reflexively saying "mental health" without an understanding of how mental health issues aren't unique to the U.S.
It's not sticking our heads in the sand and doing nothing until the next mass shooting, then rinsing and repeating.
Cline, for chrissakes, has only gotten $8,000 total from the NRA in his three campaigns for Congress.
I'd like to think his price for selling out kids and moms and dads out shopping at an outlet mall would be higher than that.