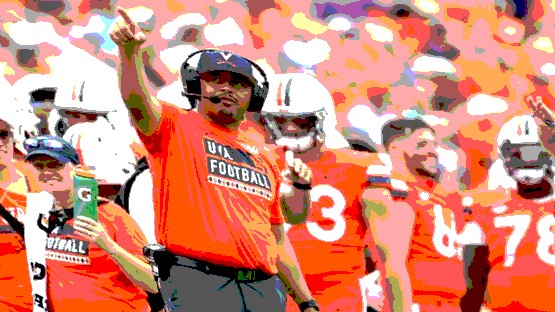 Tony Elliott says he turned down the Tennessee job three years ago. (The Tennessee AD begs to differ.)
He was also apparently Duke's first choice before he decided to take the Virginia job, and Duke had to settle for Mike Elko.
Elliott, instead of being in Year 3 at UT or Year 2 at Duke, is 0-2 in Year 2 at Virginia, 3-9 overall, with a quarterback controversy, an issue with his guys being distracted by phones in the locker room during a weather delay, and an offensive line continually in rebuild, among the many issues with his program.
Tennessee, meanwhile, is in the Top 10, after an 11-2 season under the guy who got the job instead of Elliott (!), Josh Heupel.
And Duke is in the Top 25, with a blowout win over Clemson, after Mike Elko, the fallback choice after Elliott dropped out of the running for the job there, took the program that he'd inherited from David Cutcliffe that had gone 10-25 in Cutcliffe's last three seasons to a 9-4 finish in 2022.
I think it's also relevant, somewhat, to point out the job that Deion Sanders is doing out at Colorado, with 86 (!) new faces on the massively overhauled roster, which Sanders has led to wins over TCU, which played in last year's national-championship game, and Nebraska.
Sanders is 2-0 at a program that went 1-11 last year.
Elko is 11-4 at a program that had won 10 games in the previous three years.
Elliott is 3-9 at a school that played in the Orange Bowl just four years ago, and unlike those other three, he didn't replace a coach who was fired.
Bronco Mendenhall was 5-5 and 6-6 in his last two seasons in Charlottesville, and only stepped down after a row with the AD, Carla Williams, who wanted him to replace his defensive coordinator, and Mendenhall resisted, and decided to quit instead of capitulating.
Elliott, and Williams, decided to use the opportunity to put the program through a full-scale rebuild, beginning with a teardown of the roster that Mendenhall had left behind.
Sanders would be proud at the depths of how much Elliott stripped things down, but the problem that we're seeing with the Elliott/Williams teardown is, they haven't found 86 new faces, or anything close, who can play at anywhere near the level of what Sanders has at his disposal.
And yes, it's not fair to compare the situation at a place like Virginia to Colorado or Tennessee, where coaches have more latitude with the folks in the admissions offices to get the players they want on campus.
Can't say the same about Duke, though, and look at the job that Elko is doing there vis-à-vis what Elliott is doing at Virginia.
Elko inherited a roster from Cutcliffe that had gone 3-9 overall and 0-8 in the ACC in 2021, and he couldn't Prime Time everybody out the door and JUCO up the joint.
Elko's ability to turn things around the way he has, as quickly as he has, is the pressure point here for Elliott and Williams, who, if they're not on notice by the people who they answer to, will be soon.
For all the talk from Elliott's few, but vocal, defenders on social media, it's not justifiable to claim that he's still "learning on the job" when he's earning $4.25 million a year at that job.
There is soon coming a time, and it could be in a few weeks, that he's going to be asked to provide an update to the blueprint for where he sees things going moving forward, and given an update to the benchmarks that he's going to need to hit.
UVA isn't the kind of place that will make a change with a football hire after two years, but it's not hard to see where this is going to play out.
Elliott, like Al Groh and Mike London before him, can't seem to figure out what he wants to do at quarterback, and like those two guys, and Mendenhall, he has obvious issues on his coaching staff that need to be addressed.
At least his predecessors could recruit; Elliott has underwhelmed in that respect, and there's really not much in the development pipeline, other than the true freshman quarterback, Anthony Colandrea, who had a stellar first career start yesterday, that makes you see anything exciting a year or two or three down the road.
The present isn't good at all, unlike what the folks at Tennessee, Duke and Colorado are seeing.
The future doesn't portend much better.
The writing is on the wall. I'm just the one telling you what it says.