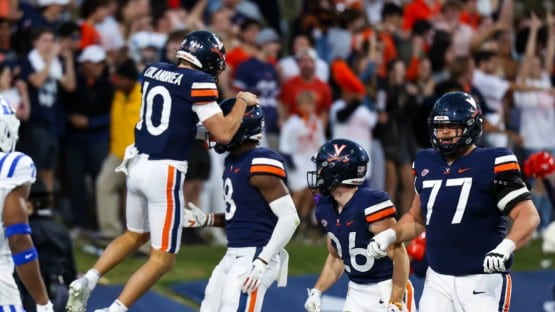 Virginia QB Anthony Colandrea is the ACC Rookie of the Week, and teammate Will Bettridge is the ACC Specialist of the Week, in honors announced by the league on Monday.
Colandrea, who takes home the Rookie of the Week award from the ACC for the second time this season, also was featured on the Davey O'Brien Award Great 8 Quarterbacks list for Week 12, was one of On3 True Freshman Weekly Standouts and was named the College Football Network Freshman of the Week.
In his fifth start of the season, Colandrea, a true freshman, was 21-for 30 with 278 yards passing and three touchdowns in Saturday's 30-27 win over Duke. He added 66 rushing yards and was responsible for 344 yards of total offense.
The win was his first as a starting quarterback at UVA. Colandrea is ninth in the ACC with a UVA-freshman-record 1,715 yards passing on the year.
Bettridge was a perfect 3-for-3 on his field goal attempts against the Blue Devils, and his final kick of 30 yards with 3:43 left proved to be the winning margin in the game.
Bettridge has made 12-straight field goals from 39 yards and in and has made three field goals from 45 yards or more this season.