Perspectives
Action needed to curb menhaden 'net spills,' harvest in Chesapeake Bay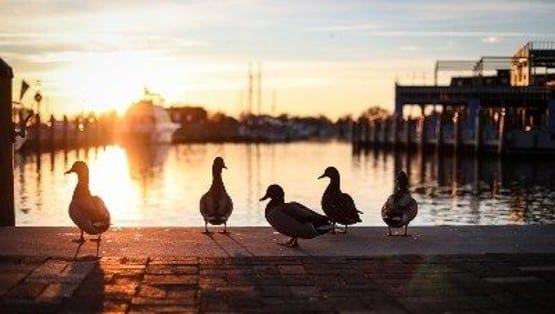 By Mike Leonard and David Sikorski

At least twice last summer, industrial menhaden harvester Omega Protein littered the beaches along Virginia's Eastern Shore with dead Atlantic menhaden, wasting thousands of this important forage fish.
The Canadian-owned company acknowledged that its contractor, Ocean Harvesters, based in Reedville, VA, was responsible for both mishaps.
The first net failure occurred on July 5, 2022, spilling thousands of dead menhaden along Silver Beach, VA, located on the Chesapeake Bay's shoreline. A second spill, just 20 days later, occurred about 15 miles to the south and resulted in several thousand dead fish, including some six tons of large game fish, washing up on the beaches of Pickett Harbor, Kiptopeke State Park and Sunset Beach.
Among the fish killed in the second incident were hundreds of large red drum that were caught as bycatch in the operation's net. Official counts reported to the Virginia Marine Resources Commission (VMRC) by Omega Protein revealed that at least 12,000 pounds of red drum — most of them in the 30– to 50-pound range — were casualties of this single calamity. Given that popular sport fish's biology, it is highly likely those big, mature reds were in the Bay to feed on menhaden schools, converting the protein-packed forage into the energy needed to spawn the next generation.
These latest net spills aren't the only times Omega Protein has shown itself to be a bad corporate neighbor in the Chesapeake Bay. In a single week in 2021, the company's nets tore on two separate incidents, forcing them to dump what the VMRC estimated to be 400,000 dead menhaden into Hampton Roads waters.
In December 2019, Virginia was found to be out of compliance by the U.S. Department of Commerce after Omega Protein knowingly violated the 51,000-metric ton Chesapeake menhaden harvest cap, a limit agreed to by coastwide fishery managers. Moreover, Cooke Inc., the parent company of Omega Protein, has paid nearly $13 million in penalties for violations related to the environment, safety, government contracting and finances, according to Good Jobs First, an organization that tracks corporate violations.
In response to the 2021 net spills, the VMRC's menhaden advisory committee considered the development of an offshore buffer — or area closure — to minimize the possibility of the large menhaden purse seine nets snagging on the bottom in nearshore shallow waters. Such a buffer would also provide protection for recreational species that frequent vibrant nearshore habitats.
Unfortunately, the proposal did not move forward because it was opposed by the committee's Omega Protein representative, who claimed net spills are rare events not in need of a remedy. The two most recent significant spills this summer, though, have clearly shown these occurrences are not as rare as the company claims.
Often called the most important fish in the sea, menhaden are primary food for popular and valuable game fish such as striped bass (rockfish), red drum, bluefish, cobia and sea trout.
Stripers are the largest saltwater recreational fishery in the U.S. and generate hundreds of millions of dollars in economic activity in the Chesapeake region alone. They are especially dependent on protein-rich menhaden, but this game fish is clearly overfished. Moreover, reproductive success of stripers in the Bay — the fish's most important nursery ground — has dropped below the long-term average several times in recent years. As a result, coastal fishery managers have implemented a plan to rebuild the striped bass population.
It is also important to note there has never been a bona fide stock assessment to estimate the number of menhaden in the Bay. Additionally, because the overall menhaden harvest, particularly in New England, has greatly increased, the Atlantic States Marine Fisheries Commission is considering changes to its current management plan.
Several options are on the table, including reallocating a percentage of the harvest to northern states, which would likely reduce Virginia's quota and impact Omega Protein's bottom line. (According to the ASMFC and other sources, Omega Protein harvests more than 70% of all menhaden caught on the East Coast.)
Simply put, menhaden are far too valuable to the Chesapeake's ecology and recreational
economy to allow a single, foreign-owned industrialized harvester to grind up the lion's share of menhaden into animal feed and fertilizer. This inequity is especially troublesome given the fact that Bay and coastal anglers are doing their part to conserve stripers and improve marine habitats.
Taken together, this is precisely why the Coastal Conservation Association and American Sportfishing Association are part of a broad coalition of recreational fishing and boating groups that have asked Virginia Gov. Glenn Youngkin to stop the use of industrial purse seine gear in a major portion of the Chesapeake Bay "until science demonstrates" that it does not negatively alter the estuary's ecosystem.
The Chesapeake's marine resources belong to all of us. Additionally, the Bay is an important driver for robust sport-fishing, boating and tourism economies. We deserve more than empty promises from an international fisheries juggernaut. All eyes are on Virginia's fisheries managers and leadership in Richmond to curb this wasteful action.
Mike Leonard is vice president of government affairs for the American Sportfishing Association and a member of the VMRC Menhaden Advisory Committee. David Sikorski is executive director of the Coastal Conservation Association Maryland and chair of Maryland Sport Fisheries Advisory Commission. Their views do not necessarily reflect those of the Bay Journal. This article first appeared in the November 2022 issue of the Bay Journal and was distributed by the Bay Journal News Service.