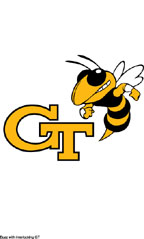 A regulation-ending 13-1 run by #14 seed Boston College sent the game to overtime, but #11 seed Georgia Tech took control in the final minute of the extra session to pull out a 71-67 win in the final game of the first round of the 2014 ACC Tournament.
Georgia Tech (16-16, 7-12 ACC) went nearly 10 minutes without a field goal before Trae Golden hit a layup as part of a conventional three-point play that gave the Jackets a 69-67 lead with 36 seconds to go.
Ryan Anderson missed a jumper in rhe lane for BC (8-24, 4-15 ACC) with 17 seconds to go, and Kammeon Holsey made four free throws in the waning seconds to put the game away.
Georgia Tech led 29-25 at the half and had built a 61-49 lead with 5:00 to go before Boston College clamped down on defense, forcing a lengthy stretch in which the Jackets went 0-for-7 from the field with two turnovers, scoring only five points in the 9:54 time frame, all from the free-throw line.
Tech advances to Thursday's second round against #6 seed Clemson (19-11, 10-8 ACC).