Mealor joins Augusta Health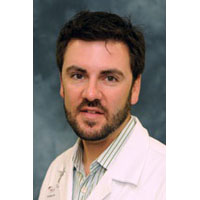 Augustus 'Gus' Mealor, M.D., an internal medicine physician, has joined the Augusta Medical Group as a hospitalist at Augusta Health.
A hospitalist is a doctor who specializes in treating patients in the hospital. Because he is onsite at the hospital, Dr. Mealor is a point of coordination between patients, physicians and families. He can see patients more frequently, can follow-up with test results and treatments, and be more available to meet with family members. Hospitalists work with the patients' primary care physicians and other specialists to make sure patients get the best care possible while in the hospital.
After graduating from Trinity University in San Antonio, Dr. Mealor attended graduate school at the University of Memphis and received an MS in Biology with a concentration in Microbiology and Molecular Cell Sciences. He went to medical school at the University of Tennessee College of Medicine. Dr. Mealor completed his Internal Medicine residency at the University of Virginia.
Dr. Mealor has been an active community volunteer and served as Director of Youth Ministries for Balmoral Presbyterian Church in Memphis. He enjoys fly fishing and ting, playing freestyle guitar and training for triathlons.

Comments