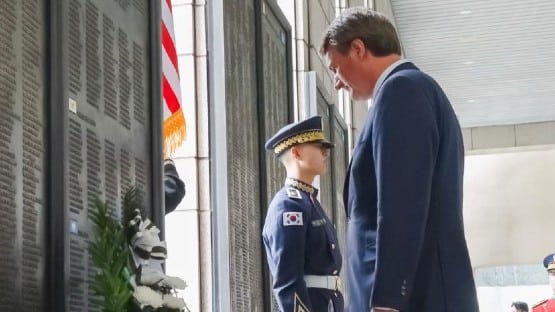 Gov. Glenn Youngkin, on the final day of his six-day tour of Asia, paid tribute on Saturday to Virginia soldiers who lost their lives during the Korean War, laying a wreath at the War Memorial of Korea in Seoul, South Korea.
The photo-op wraps a busy week overseas for Youngkin, a fringe player in the 2024 Republican Party presidential nomination contest.
His tour of Asia included stops and photo-ops in Japan and Taiwan, where Youngkin met with Taiwan's president, Tsai Ing-wen, on Monday, to talk shop, and to formally sign an executive order establishing Virginia's first office for economic development in Taipei.
That one actually carries some economic significance. According to numbers from the governor's office, Virginia, in 2022, exported $730 million in products to Taiwan, and imported $1 billion in goods from Taiwan.
And then there's the political aspect to taking a selfie with the president of the democratic country eternally under threat from mainland Communist China, which Youngkin has been taking great pains to distance himself from his days as the co-CEO of the Carlyle Group, a private equity firm that has invested heavily in China.
Youngkin's visit to Japan included a photo-op on Wednesday at the Yokota Air Base.
On Saturday, Youngkin was joined at the War Memorial of Korea by the United Nations Command Honor Guard, Sgt. Stephen Causey, and 1st Lt. Daniel Hammel, a native Virginian.
"The War Memorial of Korea serves as a stark reminder that freedom, democracy, and prosperity are often forged and preserved by the generations before us," Youngkin said. "I was humbled and grateful to pay my respects to the 750 Virginians that lost their lives in the Korean War, and to reflect on the ultimate sacrifice they made for the preservation of peace."