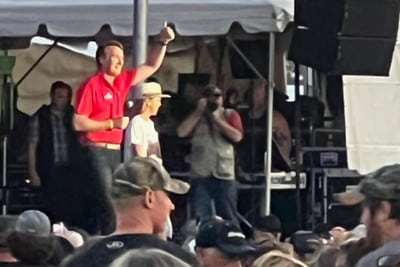 Country music star Dustin Lynch, and his doppleganger, Dustin Parker, brought an overflow crowd to the Rockingham County Fair on Wednesday that included Gov. Glenn Youngkin.
Youngkin was the self-booked co-headliner for the politically-minded among the fairgoers, touring the grounds for a couple of hours something like a pied piper, surrounded as he was by a phalanx of law enforcement, politicos, journos and a stream of well-wishers, none of whom had anything to say about that guy who's trying to start a civil war over his stolen nuclear documents.
Interesting note to that end: I didn't see a single MAGA hat or Trump T-shirt anywhere all night, in a county that went 69.3 percent for Trump in the 2020 election.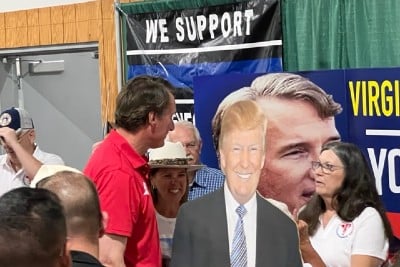 The only Trump item in the place was a cardboard cutout at the Republican booth in the exhibit hall.
Youngkin did his best to try to avoid the Trump cutout. I did my best to try to frame a photo of him with said Trump cutout.
As you can see, I won there.
Youngkin is reportedly undertaking an exploratory effort to look at a possible run for the 2024 GOP presidential nomination, staking his claim on his upset win in otherwise reliably blue Virginia in last year's governor's race.
Running as a mainstream conservative, Youngkin outperformed Trump statewide by six points, and significantly, his run slightly toward the center-right didn't hurt him in places like deep-red Rockingham County, where he received 75.3 percent of the vote last November, also a six-point improvement over Trump.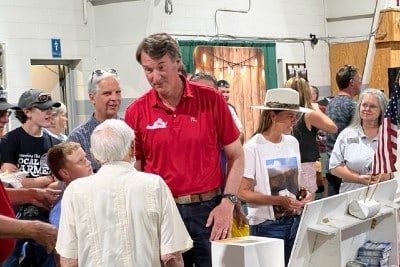 A tall drink of water, at 6'7", the former college basketball player stood out like a former private-equity firm CEO sore thumb on his visit to the fairgrounds, which was basically a running photo op, with Youngkin taking part in political tropes like serving funnel cakes at the Ruritan Club food booth, and taking in a livestock show.
There was an axe-throwing setup on grounds that he somehow avoided. That would have made for great B-roll.
Not much substantive came from Youngkin's interactions with the journos. He talked about a "great legislative session" in which "we were able to lower taxes," and how inflation has "really put the hurt on folks."
Yeah, deep.
He did offer a nice cheap pop quote for local TV.
"The Rockingham County Fair is known well beyond the Commonwealth of Virginia. There are governors all over America wishing that they had county fairs going on like this," Youngkin said.
His night at the fair ended with him on the stage ahead of the appearance by Lynch, whose eight #1 songs somehow don't include his best-known hit, "Cowboys and Angels," which somebody in Youngkin's inner circle must have whispered in his ear before he grabbed the microphone, because he referenced the song in his introduction.
No way he knew the song, or really anything about Dustin Lynch, which became evident when he garbled the name of who he was there to introduce, wrapping up his time on the mic saying he was proud to bring to the stage "Dustin Parker," a slip that Lynch noted later in the concert, joking that "Dustin Parker" is his cousin.
Drew Parker was the opening act.
At least he wasn't wearing a cowboy hat.