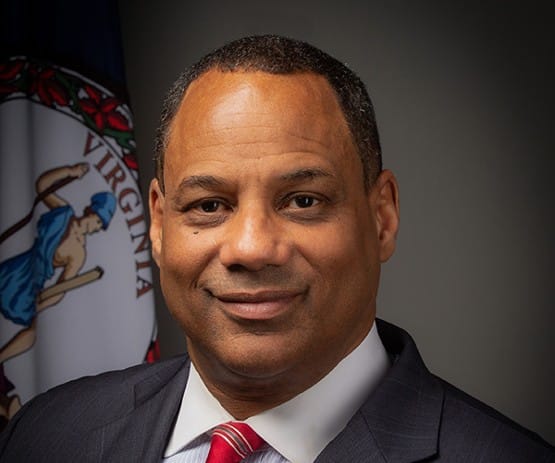 Gov. Glenn Youngkin is doubling down his defense of the "DEI is dead" comment from the former Chick-fil-A manager that he appointed last year to head up his Diversity, Opportunity and Inclusion office.
"Gov. Youngkin will continue to advance equal opportunities – not equal outcomes – for all Virginians. This is too important of an issue to succumb to those seeking to cancel Chief Brown for challenging the groupthink of the progressive left's pursuit of equity at any cost," the governor's office said in a statement defending Martin D. Brown, who last week in remarks at VMI declared DEI – diversity, equity and inclusion – to be "dead."
The Virginia NAACP and top state Democrats have called on Brown to resign or be fired in the wake of his regressive far-right groupthink comments on the death of DEI, but of course that's not going to happen.
Because Brown is doing precisely what Youngkin hired him away from the Chick-fil-A in Willow Lawn to do.
"Let's take a moment right now to kill that cow. DEI is dead," said Brown, who was appointed by Youngkin to head up the office created under the administration of Youngkin's predecessor as governor, Ralph Northam, a Democrat, in November.
"We're not going to bring that cow up anymore. It's dead. It was mandated by the General Assembly, but this governor has a different philosophy of civil discourse, civility, treating — living the golden rule, right?" said Brown, who was plucked from a three-year stint as the manager of a Chick-fil-A in Richmond to take over the former DEI office, according to his LinkedIn profile.
It was Youngkin who renamed the office, replacing "equity" with "opportunity," playing to the far-right schematic that pretends that generations of state-sponsored structural inequality can be done away with the stroke of a pen.
Black Virginians, who make up 20 percent of the state's population, disproportionately live in communities with significantly lower median household income, which trickles down into lower thresholds for the provision of public services, including healthcare and K-12 education.
Youngkin's push to advance "equal opportunities – not equal outcomes" flies in the face of that inconvenient reality for Blacks and Whites who live in communities that lag behind economically, and thus don't have the ability to provide "equal opportunities" that their citizens can use to work toward "equal outcomes."
"Those who oppose equity try to frame it as something that is less than meritorious. But the true concept of equity is, in fact, about the government and other entities providing each individual with what they need in order to be successful," said Cozy Bailey, vice chair of the Virginia African American Advisory Board, in an interview with the Washington Post.
Bailey and Del. Don Scott (D-Portsmouth), the minority leader of the House of Delegates, have both joined the chorus of Black and Democratic leaders calling on Brown to be forced out.
"It appears that the only reason the governor put him in this position is because he's Black," Scott told the Post. "What makes him qualified to work on the issues around diversity, equity and inclusion? Where are his bona fides? He was working as a manager at a Chick-fil-A right before this."