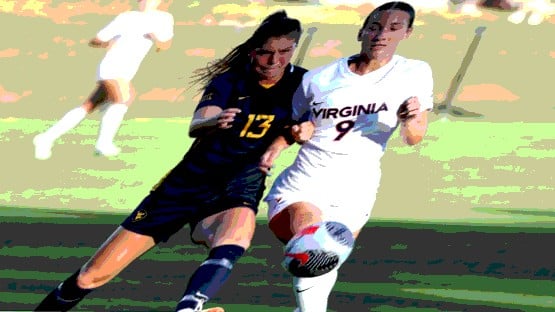 Sophomore Meredith McDermott turned in her second brace of the season with a pair of first-half goals to help lift No. 12 Virginia to a 2-1 victory over West Virginia at Klöckner Stadium on Thursday night.
Virginia (4-0-1) struck in the fourth minute when Jill Flammia got the ball at the top of the attacking third and raced toward the box. She found Maggie Cagle out wide at the six and played it to her for Cagle to then tap it in to McDermott in front of goal for the score.
McDermott notched the game's second goal in the 19th minute. The Cavaliers were on the attack with a long ball played into the attacking third.
The West Virginia keeper came off her line and met the ball at the top of the box, but it was bobbled and bounced toward goal to allow McDermott the empty net opportunity.
The Mountaineers (2-3-0) came out pressing in the second half and were turned away by keeper Cayla White early before West Virginia would find the net in the 85th minute.
White made another big save as she turned away the initial shot from Dilary Heredia-Beltran, but the deflected ball bounced along the endline where it was put back past the near post by Taylor White at a near impossible angle for the score.
"It was a good win for us. We knew it was going to be a tough game," UVA coach Steve Swanson said. "We did a good job of getting a lead in the first half and taking control of the game. West Virginia just never quits, and that's a credit to their coaching staff and their team. We knew they would press us, and they did. We didn't handle it as well as we could have, but that's something we will work on. It was disappointing to give up the goal when we did, but they're all things we will learn from and get better. Overall, it was a really good team win. I'm proud of the team, and we have to go out and get another one on Sunday."
Virginia returns to action on Sunday when the Cavaliers host VCU in a 2 p.m. contest at Klöckner Stadium.