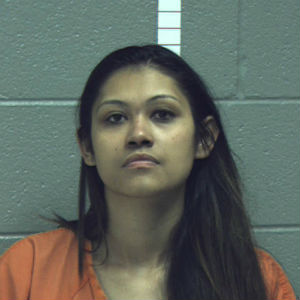 The Waynesboro Police Department has arrested a Waynesboro woman for counterfeiting tens and twenty dollar bills after she was caught trying to pass one at a local store last month.
Ashley Lynne Wells, 25 years old, faces three felony charges connected with a crude counterfeiting operation she had devised.  On June 24, 2014, an officer responded to the Family Dollar store located at 1300 West Broad Street for a report of woman attempting to pay with a counterfeit $20 bill.
When the officer arrived, the woman, later identified as Wells, had already left.  Store employees told the officer that Wells had attempted to buy something and presented the $20 bill for payment.  The cashier, using a pen to detect counterfeit money, determined the bill was fake.  When told the bill was counterfeit, Wells left the bill and departed the store.  The store employees provided the officer with the license plate of Wells' vehicle.
Officers located Wells at Brandon Ladd Apartments in a vehicle and spoke to her about the Family Dollar incident.  She claimed she received the bill as change at another store.  The officers determined that Wells was wanted on another charge and arrested her.  When an officer search her, she found more counterfeit bills in Wells' brassiere and in her purse.  When they searched her vehicle, they found more counterfeit bills, a Canon printer and the paper used to print the phony money on.
Wells faces the following felony charges –
Knowingly Possess Counterfeit Money
Manufacture Counterfeit Money
Knowingly Utter Counterfeit Money
She is being held without bond at Middle River Regional Jail.