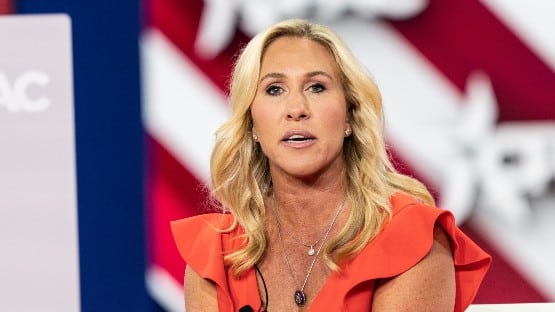 Marjorie Taylor Greene, expert on divorce, wrote today on Twitter that "we need a national divorce," which, don't get too excited, she's not saying that she's leaving Congress and taking the insurrectionist kids.
"We need to separate by red states and blue states and shrink the federal government," wrote Greene, R-Crazytown.
Aha.
That would work.
Funny how she seems to think that she'd get to keep the house.
I think the blue states that pay the bills for the red states would fight her over that.
I like the little aside she threw in: "Everyone I talk to says this."
Now we know where all the statues of Jefferson Davis and Robert E. Lee ended up.
Seriously, though, you have to wonder how she thinks something like this would work.
For starters, how would the red states continue to function once the blue states cut off the gravy train?
It's well-known that the red states can't come close to paying their own bills, which makes the wailing and gnashing of teeth over "the sick and disgusting woke culture issues shoved down our throats" whining that Greene wrote about in her tweet just … cute.
The red states have their hands out for the blue states' money, but buh gawd, how dare they tell us what to do with it.
Second, who decides how we divide the assets of the marriage in the divorce?
Greene, who just finalized her public divorce right now, should know that this part of a divorce can get messy.
For starters, is Georgia, which she represents in Congress, a red state because it has a Republican governor, or a blue state, because it has two Democratic U.S. senators, and voted blue in the 2020 presidential election?
Hmmm.
Don't worry, Marge: I'm sure Blue America would let you visit every other weekend.
Keep in mind, this jilted lover here is the power behind the throne of the new House Speaker.
She was actually one of the voices of reason on the absurdist far right calling for calm as the even more bonkers wing neutered, then castrated, Kevin McCarthy, and demanded more.
Not much else to say here, but that.