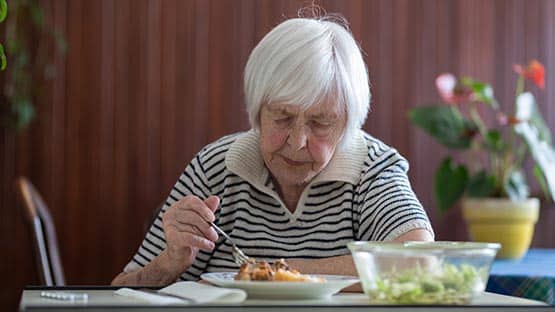 Nearly a quarter of adults aged 65 and older are considered to be socially-isolated. Valley Program for Aging Services is aiming to change that by encouraging everyone in the community to share a meal with an older adult in March.
VPAS plans to host events throughout the month to make it easier for community members to reach out to vulnerable seniors – many at risk for malnutrition, dementia or other serious medical conditions.
Older adults are at increased risk for loneliness and social isolation because they are more likely to face factors such as living alone, the loss of family or friends, chronic illness, and hearing loss, according to the CDC.
There is strong evidence that many adults aged 50 and older are socially isolated or lonely in ways that put their health at risk.
Recent studies found that:
Social isolation significantly increased a person's risk of premature death from all causes, a risk that may rival those of smoking, obesity and physical inactivity.
Social isolation was associated with about a 50 percent increased risk of dementia.
Poor social relationships (characterized by social isolation or loneliness) was associated with a 29 percent increased risk of heart disease and a 32 percent increased risk of stroke.
Loneliness was associated with higher rates of depression, anxiety and suicide.
The "No Senior Eats Alone" campaign is part of a month-long recognition of Meals on Wheels called "March for Meals".
VPAS encourages the public to participate in the following events:
VPAS Cafes – Every single adult in our community aged 60 and older is invited to attend a VPAS Cafe. Located in Staunton, Waynesboro, Stuarts Draft, Churchville and Weyers Cave, cafes offer a delicious hot meal, as well as social activities, games, exercise and other programming. For more information, visit vpas.info/vpas-cafes or call (540) 942-1838.
Community Champions Day – On March 27 and 29, local leaders will volunteer their time to deliver hot meals to homebound older adults and learn how Meals on Wheels delivers critical nutrition and human connection to a rapidly aging population.
VPAS has been serving older adults and their families for nearly 50 years.