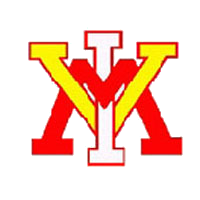 The VMI Keydets saw their offense explode to its highest levels since 2008, sending them to a 52-24 win over the Davidson Wildcats in non-conference football action Saturday afternoon at VMI's Foster Stadium. The game marked VMI's home opener for the 2014 season.
The Keydets (1-2) took early command, scoring the game's first 17 points and never seeing their lead fall below 14 the rest of the way. VMI rolled up 597 yards of total offense, its highest total since Nov. 22, 2008, and part of a 1,128-yard day of total offense as Davidson (1-2) added 531 yards of its own. The point total was VMI's largest since Sept. 20, 2008 against Chowan and was the second-highest total the Keydets have recorded under Sparky Woods.
Aaron Sanders was VMI's offensive leader as he caught 10 passes for 215 yards, the third-highest receiving yardage total in Keydet history. VMI also saw Jabari Turner rush for three touchdowns, the first Keydet to do so since Chaz Jones in September of 2011, while Al Cobb went 18 of 25 for 338 yards and a touchdown. Cobb led a passing attack that gained 394 net yards, just 28 off the all-time Keydet record set in 1986.
Despite the lofty offensive numbers, there were defensive highlights as well. Chris Copeland blocked a punt and returned it for a touchdown, while Jon Strozyk grabbed an interception and added a fumble recovery. Darnell Ashton also chipped in a career-high 12 tackles to help VMI win its ninth home opener over the past 10 seasons.
The Keydets got on the board on their second possession. After four plays, Turner took a handoff and jetted 38 yards for a score. The point after put VMI up, 7-0, just over four minutes into the game.
That margin grew on VMI's next drive, when Cobb found Sanders on a fly pattern down the left sideline. The pass was good for 49 yards, but was fumbled by the Keydet receiver. VMI was able to fall on the ball at the Davidson 21, however, leading to an overall gain of 60 yards on the play. Two plays later, Turner plunged in from a yard out and it was 14-0, Keydets.
That was the score at the conclusion of the first quarter, but the Keydets tacked on early in the second. A 50-yard Cobb to Burton pass, followed by a Davidson pass interference penalty, opened the door for a Dillon Christopher 24-yard field goal that gave VMI a 17-0 lead with 10:40 left in the half.
Davidson came back with an 11-play, 71-yard drive, however, and got on the board with Trevor Smith's 23-yard field goal at the 7:08 mark, cutting the VMI advantage to 17-3.
That 14-point deficit lasted just one drive. Sanders and Deon Watts accounted for 68 yards of an 80-play drive, capped by Watts' 12-yard touchdown grab that made it 24-3, Keydets with 3:33 remaining in the half. That would remain the score at halftime, as a last gasp Davidson drive went for naught.
At the half, the Keydets had already rolled up 321 yards of total offense. It would be more of the same in the second half, but Davidson was first on the board. The Wildcats used passes of 30 and 26 yards to William Morris, the latter of which was good for a touchdown. That cut the margin to 24-10.
The visitors tried a bit of creativity on the ensuing kickoff, using a short kick, but the short field position cost DC. A 19-yard completion to J.C. Garvin and an 18-yard grab by Burton set up Turner's third touchdown, a two-yard run that pushed the margin back to 21, 31-10, with 10:04 remaining in the third.
The Wildcats quickly went three and out, but saw their ensuing punt try be blocked by Copeland. The ball skittered loose, was grabbed at the DC 3 and taken in easily for a touchdown, making it 38-10.
The Keydets scored once more in the third, doing so on a Deon Watts 1-yard run that had been set up by Strozyk's interception, but Davidson did as well. Rogers scampered in from 15 yards out to account for the score after three quarters, 45-17.
Backup quarterback Hayden Alford engineered a long drive that ended early in the fourth quarter for VMI's final points. It was a 10-play, 96-yard drive that included 30 yards receiving for Sanders. Burton hauled in a 26-yard touchdown to put VMI up, 52-17. The visitors added a late TD run by Rogers to account for the final margin.
Davidson was led by Morris, who shattered the previous Foster Stadium record with 16 receptions. Wildcat quarterback J.P. Douglas was 28 of 41 for 317 yards, while Rogers ran for 103 yards and two scores.
VMI football will return to action Saturday, Sept. 20, facing Samford in the team's Southern Conference opener. Game time in Birmingham, Ala. is set for 3 p.m. ET.
QUOTES – VMI HEAD COACH SPARKY WOODS
"I really think they (Davidson) have gotten better over the last three weeks so credit them for a really good game. I'm proud of our win, proud for VMI, the players worked really hard so we had a chance to win. We thought that if we executed we would have a chance to win the football game, and I think we pretty much did as a group. There are still some things we can improve on. We saw a lot of nice effort plays, we put Jabari (Turner) in and Aaron Sanders made a lot of nice plays for us. Overall, I'm happy with it. We took care of the ball. We still have some things to do in the kicking game, however we scored some in the kicking game and we were able to get some yardage on kick returns. Overall I thought it was a good win, and it's time to improve off of this and get started in some Southern Conference play."
"I think we're going to see where we broke a lot of tackles running and pushed the pile. It helped make the yardage on second downs shorter for the third downs. I thought one of impressive things about Aaron (Sanders) and the other receivers was the run after the catch. We caught some little five-yard out routes and he (Sanders) turned it into big gains. The passing game really hadn't beaten anybody, but the run after the catch does. I'm really proud of them for running after they caught the ball. Al (Cobb) had a good game and then Hayden (Alford) came in and took us on a 96-yard drive for a touchdown. He hit Doug (Burton) on the post route. The ability to run the ball helped us get to second and five, or second down and four rather than second down and eight."
"Credit them, they made a lot of nice plays. We had a personal foul penalty and I thought we were playing pretty decent until that personal foul penalty … it kind of went south after that on defense, so I'm disappointed in that and that's something we can learn from on the film. I don't think that play in particular made all of the other plays bad, but it seemed like that was the start of us not playing as effectively on defense."
"I've seen us before play at the tempo of the other team and I thought we set the tempo today and I was encouraged by that. I thought we did charge when we came out and started hard. I thought in the second half, our offense came out and scored, answered the touchdown Davidson scored (to open second half). I thought the tempo of the play was good. We set the tempo rather than fall into the tempo. Certainly we've got to play better but we win and we wanted to win decisively."
"We played everybody that we intended to play and everyone that will probably go to Samford. We got a few other guys in too that practice hard so that was nice. Third game of the season, you're still trying to improve on your team."
WIDE RECEIVER AARON SANDERS
"I think it definitely boosts the morale of the team. We've been executing in practice every week and we finally got our win today."
Jabari Turner on long play
"It's just like what we practiced. We practice hard all week so the game seems just like practice. … The offensive line did well, they opened up a lot."
Aaron Sanders on long reception with a fumble
"I caught the ball, and tried to make a play. I really tried to score, I should have held onto the ball at the end, but I was just trying to make a play."
Aaron Sanders on Offense
"This year our offense has really taken off, especially after the first game (at Bucknell) and against Bowling Green we had a lot of completions. And against Davidson, we executed both rushing and passing. Our offense is looking really good."
Jabari Turner on Winning this game and going forward
"It feels good to win, we've been practicing hard. That's been our whole motivation coming into this season. At camps you've been lifting, working on execution, practicing hard, that way on Saturday's everything is second nature because you've practiced so much. You come out on Saturday's and everything just carries over. That's what made everything today run the way it did."
Aaron Sanders on Rats doing 228 Pushups
"I was in that situation last year, not doing the pushups, but the Rat Line. I understand how they feel."
Aaron Sanders on Al Cobb
"I've seen Al everyday at practice, we workout after practice and run some routes and Al is what he is. He's good. And I honestly believe he can be great, especially when we get into the Southern Conference, I think we can do some really big things at quarterback."