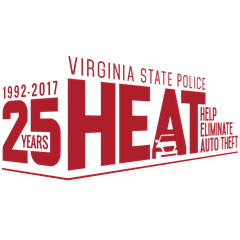 The Virginia State Police Help Eliminate Auto Theft (HEAT) program is celebrating 25 years of auto theft prevention.
In 1991, auto thefts in Virginia had climbed to 21,284, outpacing aggravated assaults and robberies combined. Law enforcement made 4,032 auto theft-related arrests that year, and the value of vehicles stolen was nearly $114 million.
In 1992, the Virginia State Police responded by establishing the HEAT program, and motor vehicle thefts have since declined by more than 60 percent.
HEAT provides local law enforcement agencies with a number of resources, from free educational materials and training to awards for outstanding efforts in auto theft prevention. The HEAT program also works diligently to spread auto theft awareness to the public.
"Our top priority is making sure you don't become a victim of auto theft," said First Sgt. Steve Hall, HEAT program coordinator. "And if you have information about auto theft or chop shops, we want to hear from you."
Tips that lead to an arrest could be worth up to $25,000. Tips can be submitted online at HEATreward.com or by calling (800) 947-HEAT.
HEAT's most popular outreach efforts are its free VIN etching events, in which a vehicle's 17-digit vehicle identification number is etched into the exterior auto glass. For motorcycles and scooters, HEAT provides etching decals that owners may apply to their vehicle at their discretion. HEAT etched more than 400 vehicles in 2016.
"VIN-etching is a deterrent because etched glass has to be removed before a stolen vehicle can be sold for parts," Hall said. "That costs time and money and makes a VIN-etched vehicle a less-desirable target for thieves."
Furthermore, Hall said VIN etching events provide an excellent opportunity for law enforcement to speak directly with citizens about the dangers of auto theft.
"What doesn't click with a lot of people is that stolen vehicles are often used to commit even more serious crimes," Hall said. "It's important for us to drive home the message of auto theft prevention."
One message that Hall said motorists are having a hard time receiving is to secure their unattended vehicles.
The National Insurance Crime Bureau (NICB) reported in November that a key or key fob was left inside about one out of every four vehicles stolen in Virginia.
"It's really quite simple," Hall said. "Take your keys or take your chances."