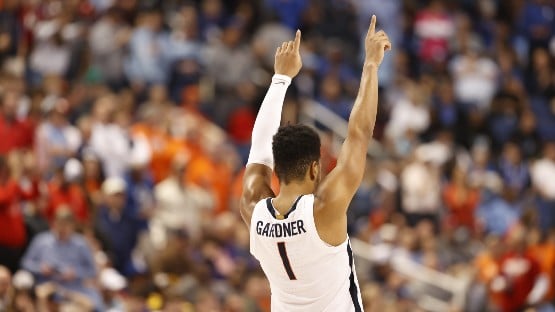 Virginia was ranked in the Top 10 most of the year. The program just won its sixth ACC regular-season title in the last 10 years.
There's a banner hanging for a national championship that isn't yet four years old.
But this year's UVA team doesn't have a lot of NCAA Tournament experience.
Funny how that can be.
"I think experience is always important, whenever you can have it. Certainly we have some guys who have played games, but you're right, in the NCAA Tournament, I mean, that's important," Virginia coach Tony Bennett said Monday.
The Cavaliers (25-7), the #4 seed in the South Region, will face SoCon champ Furman (27-7), the #13 seed, on Thursday at 12:40 p.m. ET in Orlando.
Virginia missed out on last year's NCAA Tournament, and its appearance in 2021 was marred by a COVID quarantine that was lifted just hours before the 62-58 loss to Ohio.
We all remember what happened in 2020, so you have to go back to 2019 to find any meaningful, translatable NCAA Tournament experience for anyone on the UVA squad.
That comes in the form of Kihei Clark, a starter on the national-championship team, and Francisco Caffaro, who was redshirting that year, but was on the bench in Minneapolis.
Clark decided last spring to return for his COVID redshirt year to be a part of the effort to get Virginia back to an NCAA Tournament, and starters Armaan Franklin and Jayden Gardner transferred in last year to have a chance to compete at a championship level.
Bennett thinks the experience in last weekend's ACC Tournament, which had Virginia making it to the championship game, eventually losing to Duke, will be a help in terms of preparation for this week.
"You're always a little tired physically and emotionally after three days in a row in a tournament, but as I said, it was a hard-fought tournament, and you know, losing Ben (Vander Plas, out for the season with a broken hand), and the guys rallying around him and coming together, I said, I was proud of you," Bennett said.
"But there's also, being thankful for what we learned, you know, in some of the areas we struggled against Duke. And so, you will apply that, and we will apply that, and, you know, get to work. And, you know, you're just, you're in a routine now, and so that part's good. You know, there's not a lot of days off, you got to get ready to go and again, be purposeful in these prep days leading up to it."
The biggest lesson, looking back at the loss to Duke, is, stay in character.
"Duke has gotten better. Defensively, they're bought in, they're long, they're athletic, and they challenge you. I thought they got us at times out of character," said Bennett, whose team shot 33.3 percent and had 12 turnovers in the 59-49 defeat. "I think, you know, we just, we got rushed a little bit, like, man, we're struggling to score, we got to, we got to, we got to win, we got to get this shot. And sometimes we drove and turned it over, and it led to some baskets for them. And they got us a little out of character at times.
"It was challenging. So, part of their defense, part of, you know, sometimes in that game, what was needed, we didn't quite execute to the best of our abilities," Bennett said. "Again, the fight was there, we battled on the defensive end. But I think yeah, you keep looking at that, and saying, OK, what can we learn from it. And that's why it's really valuable to go through it.
"As much as we want it to win, sometimes, as you say, you know, in a loss, you realize, OK, we can't take these things for granted. And so, we'll use that to, hopefully, our advantage."
Another thing that could play to Virginia's advantage is: hunger.
"I told our guys, I said, you remember last year, you know, we weren't expecting to be called, and just the difference, the feeling and the excitement of being that, obviously we just played yesterday, and for three days in a row and there's, you know, that disappointment of wanting to have, you know, won the conference tournament, but certainly grateful, excited," Bennett said on Sunday. "And you know, that's, the season's awesome in this way, and then there's the excitement of the NCAA Tournament, and so to be one of the chosen for that, and you've qualified for it, was definitely important, so don't take that for granted, for sure."