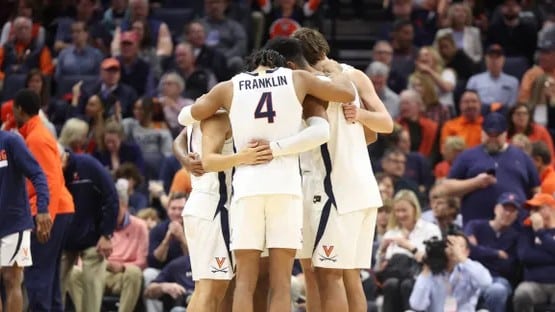 Virginia is ranked sixth in both national polls this week, after back-to-back skin-of-their-teeth wins over ACC bottom feeders.
The Cavaliers (21-4, 13-3 ACC) did emerge from the wins over Louisville and Notre Dame alone atop the ACC standings, so, there's that.
The initial NCAA Tournament selection committee rendering for next month's tournament, which came out on Saturday, had Virginia a three seed, and 10th overall.
The NET rankings, as of Monday, has UVA at 16th nationally.
The ugly wins – which, yes, were much better than ugly losses – dropped the 'Hoos to 23rd in KenPom and BartTorvik.
This week, Virginia travels to Boston College (13-15, 7-10 ACC) on Wednesday, and then has a return date with North Carolina (16-11, 8-8 ACC) on Saturday.