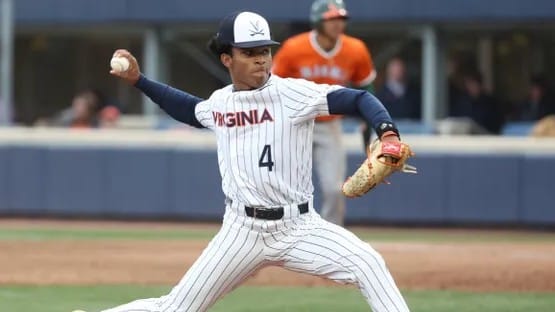 Jay Woolfolk, the backup QB the past two years, would, on paper, be your favorite to ascend to QB1. Except that the sophomore is also the closer on the seventh-ranked Virginia baseball team.
Woolfolk, a 5'11" right-hander, picked up his fourth save of the 2023 season on Saturday night, striking out one and walking one in a scoreless ninth in a 6-5 UVA win over #20 Miami.
Woolfolk, who is 2-0 with a 1.89 ERA this season, with 21 strikeouts, 10 walks and a .134 opponent batting average in 19 innings, is a projected second- or third-round pick looking ahead to the 2024 MLB Draft.
He's also doing what he can to get work in with the football team in spring practice, and keep his head in the game in a battle with Monmouth transfer Tony Muskett for the QB1 spot that we can expect to extend into training camp in August.
Head coach Tony Elliott, offensive coordinator Des Kitchings, quarterbacks coach Taylor Lamb and baseball coach Brian O'Connor get together each Sunday to discuss the schedule for their respective teams, and lay out what Woolfolk can do with the football team given what O'Connor needs for the upcoming baseball schedule.
"People also forget that we have class, too, we also have class, so yeah, it's definitely a lot more this year," said Woolfolk, whose schedule was much more baseball-focused last spring, which he finished up with a 3-0 won-loss record, 2.87 ERA, 55 strikeouts and 20 walks in 37.2 innings pitched, with a .211 opponent batting average.
But last spring, Virginia had an incumbent two-year starter entrenched as the QB1, Brennan Armstrong, who transferred after a subpar 2022 season to rejoin former UVA offensive coordinator Robert Anae at NC State.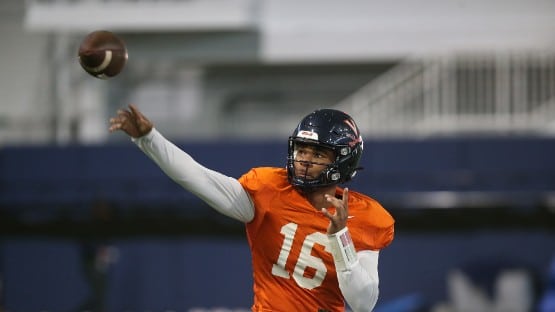 This time last year, Woolfolk's focus with football was just learning the offense enough to be the backup.
This year, he needs to be a viable option to be the lead guy.
Which is a challenge, given that he's limited in terms of how much he can throw the ball, given that throwing the ball is what he's also needed to do for a baseball team that is looking like a legit contender for a trip to Omaha for the College World Series.
"I've seen baseball players, quarterbacks specifically, play, you know, field positions, but obviously, there's a certain amount of arm care, you know, for a guy throwing, you know, 97 on the outside corner," said Lamb, who is in Year 2 as the QB coach on Elliott's staff.
Woolfolk throws some days, and takes what he and Lamb call "mental reps" on days when he can't throw – basically, standing behind the offense on a practice snap, taking in the play call, looking at the defensive coverages, then reading what he would need to do if it was him throwing the ball.
He's on a pitch count even on days that he does throw. Elliott said a couple of weeks ago that Woolfolk is limited to 40 throws on those practice days, meaning he needs to be economical.
"Coach Elliott always talks about, don't waste a rep, you know, and when you only have 40 throws, you've got to make the most of it," Woolfolk told reporters after a practice earlier this week.
Woolfolk seems to be making the most out of his work on the football field this spring. Lamb has been impressed with how he's picking up the offensive scheme.
"I'm just a lot more comfortable with it now, you know, having a year, like, under my belt with the system," said Woolfolk, who concedes that he didn't know the playbook all that well going into last fall because of his lack of work in the spring.
"Now I feel like I know where everybody is, I know the formations and where everybody is supposed to be at. I think that's the biggest step," Woolfolk said. "I still have a lot to work on, you know, being quick and everything with my drops. So, I mean, I have some good, but I also have some things I really need to work on."