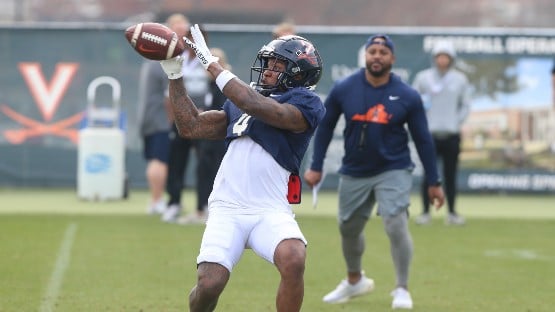 The Big Three in the Virginia wideout room – Keytaon Thompson, Dontavyion Wicks and Billy Kemp – have moved on.
Thompson and Wicks are preparing for the NFL Draft. Kemp is using his extra year at Nebraska.
The trio accounted for 99 catches and 1,125 yards in 2022, and back in 2021, their numbers were off the charts – 209 catches, 2,918 yards.
Tony Elliott came in wanting to tear things down so he could start over.
Well, here you go.
"We've got a lot of guys that are somewhat unproven, so they come out with a great hunger every day, they come out with a great attitude every day, and that makes it so much easier to coach," said Adam Mims, the new wide receivers coach, replacing Marques Hagans, a UVA alum who had been around since the Mike London administration, who left in the offseason to take the wideouts coaching job at Penn State.
Yeah, this wide receiver room thing is a total rebuild, from top to bottom.
Now, to address the elephant in the room. Obviously, there would have been one literally big guy back to build around, 6'7" wideout Lavel Davis Jr., who came back from a torn ACL in 2021 to post 16 catches, 371 yards and two TDs in 2022.
Davis, as we know, was one of the three football student-athletes killed in the mass shooting on Nov. 13.
Devin Chandler, a transfer wide receiver from Wisconsin, would also have been expected to contribute in 2023.
Davis, who was a freshman All-American in 2020, would have been the leading returning receiver looking ahead to the 2023 season.
As it is, the unit returns JR Wilson (8 catches/18 targets, 86 yards, 54.0 Pro Football Focus grade), Malachi Fields (5 catches/7 targets, 58 yards, 86.0 PFF grade), Demick Starling (3 catches/14 targets, 75 yards, 52.5 PFF grade), Luke Wentz (1 catch/2 targets, 5 yards, 56.0 PFF grade) and Ethan Davies (1 catch/3 targets, 7 yards, 43.1 PFF grade).
The group should benefit from the addition of Northwestern grad transfer Malik Washington (65 catches/101 targets, 701 yards, 71.1 PFF grade), a 5'9" slot receiver (he lined up in the slot on 77.8 percent of his pass snaps in 2022, according to PFF), who should fill the void left by the loss of Kemp nicely.
Mims has been impressed with Washington on and off the field.
"You know, with Malik coming in, I knew how smart of a kid he was, even outside of football. But the fact that he's played as much as he has, the fact that he's seen so much success on the field as he has, that's helped us, that's helped our group tremendously," Mims said. "Again, just kind of like what you said, you know, just that experience has kind of garnered the leadership already from him to our group, you know, so they look at him as an older guy, they look at him as somebody to kind of lean on and kind of lead the way, and he does a great job. He doesn't shy away from it, you know, he doesn't shy away from it at all. And I love that about him, is he's been such a great addition to our room."
Wilson (6'4", 214) and Fields (6'4", 219) are both big-body guys who will provide Keytaon Thompson-like targets for whoever emerges as the QB1.
"The room has a lot of young talent and just a lot of raw talent," said Wilson, a sophomore from Brooklyn. "You know, me myself, Malik, Malachi, you got Demick in there, so it's a lot of young guys who bring different skill sets, you know. I want to say each one of us has our own different type of receiver styles, so it's kind of unique seeing how everybody else flows out there. And it's just a beautiful sight to see when it's all put together."
Something else Wilson had to say, about how the guys on offense are "buying in," could get you to think that the housecleaning done by Elliott and offensive coordinator Des Kitchings is starting to bear fruit.
"You know, last year, new OC, new offense, everybody has different opinions on stuff," Wilson said. "But you know, a lot of people realize, like, this is the offense we're gonna run, and just, we have to run it. So, I think a lot of us are just accepting the fact that it is what it is, and just, we're executing at a high level, you know, practice is getting better every day, and you see a lot of upside, and just a lot of people making plays."