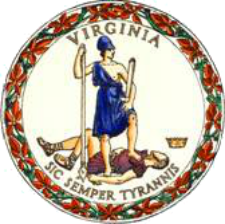 Since 2002, the Virginia Department of Agriculture and Consumer Services (VDACS) has recognized Virginia Cooperative Extension agents and specialists for their outstanding participation in the plastic pesticide container recycling program, the pesticide disposal program and pesticide safety education courses. On September 3, 2014, VDACS' Office of Pesticide Services recognized the following agents for their outstanding performance in 2013:
2013 Plastic Pesticide Container Recycling Program
Roy Flanagan, Extension Agent, Virginia Beach
The year 2013 continued to see growth in the number of plastic pesticide containers submitted for recycling. Approximately 100,000 pounds were recycled during the collection period. Since its inception, the recycling program has collected and granulated well over 1.3 million pounds of plastic and the program continues to grow. Many factors contribute to the continued growth and successful operation of this program. The most important factor is the agents who continually work to promote and expand their programs at the county level.
Roy Flanagan not only worked to improve his own program but was available and willing to assist others when needed. For example, he filled in for a locality when a last minute schedule change wouldn't allow them to participate as planned. He worked late into the evening and arranged for a forklift, a site to store the chipped plastic and enough headlights to make it all happen at 8 o'clock at night. His willingness to get the job done allowed the recycling crew to stay on schedule, benefitting not only the program but the other agents and localities that were ready and staffed for the next morning.
Pesticide Disposal Program
Jonathan Vest, Extension Agent, Floyd County
The 2013 Pesticide Disposal Program was held in Southwest Virginia at nine centrally located sites serving 21 participating counties and eight participating cities. During the 2013 effort, more than 47,000 pounds of unwanted or unused pesticides were collected, bringing Virginia's total amount of pesticides collected to well over 1.2 million pounds since the program's inception. The success of the pesticide disposal program depends on the coordinated efforts of many organizations. Among those organizations, Virginia Cooperative Extension has the important responsibility of local program coordination.
Jonathan Vest exhibited both cooperation and collaboration, including local coordination and site selection; notifying agricultural producers, industry, gardener and grower groups, and homeowners of the availability of the pesticide disposal program. His efforts were not limited to establishing and promoting the program in his county but also in a neighboring county where there was no agent.
Jonathan began promoting the program a year in advance and also attended a 2012 collection event where he not only brought material for disposal but also requested and was given over-pack containers to be used throughout the year by his growers and residents in preparation for the 2013 event.
First Place, Pesticide Safety Education
Middle Peninsula Private Pesticide Applicator Recertification
Laura M. Maxey, Hanover; John B. Allison, Charles City; T. Keith Balderson, Essex and David M. Moore, Middlesex
The first place award recognized a team of agents who came together to identify the training needs of the growers in their community and tailored a meeting to meet that need.  These agents used four different venues to allow for maximum participation. With the use of smaller groups in a classroom setting, these agents were able to conduct interactive and hands-on activities and demonstrations. Their goal was to provide a quality program focusing specifically on the local needs of their growers. The topics were chosen from questions and requests for information from the farming community.
Their creative methods ranged from developing their own demonstration video to a post meeting evaluation game called "Are you smarter than an Extension Agent?"  The team moved away from a lecture series format and encouraged greater audience participation. This program format was well received as indicated by the frequent questions and comments in addition to the many evaluations indicating an increase in knowledge.
Second Place, Pesticide Safety Education
Pesticide Applicator Recertification Course
Cynthia L. Gregg, Brunswick; Haley McCann, Nottoway; Michael J. Parrish, Dinwiddie; Brittany A. Council, Greensville; Lindy C. Tucker, Lunenberg; Bruce G. Jones, Appomattox; P. Lloyd Hipkins, Virginia Tech; J. Scott Reiter, Prince George and Michael Elliott, VDACS
The second place award recognizes a group of agents who offered recertification credit in ten categories to nearly 100 participants. These instructors used a variety of presentation methods to convey their message including PowerPoint presentations, personal experiences, audience participation, speaker interaction, exhibits, props, displays and more.
Based upon the evaluations, the training was very well received. One of the recertification program evaluation questions ask, "How could this course be improved?" If you are wondering how many different ways the answer "the course is great, no improvement is needed" can be stated, the answer is 34.  Ninety percent of the attendees completing the evaluation indicated the course was great and needed no improvement.
Third Place, Pesticide Safety Education
Private Pesticide Applicator Recertification Course
Greensville/Emporia: Brittany Council, Greensville; Glenn Slade, Surry and Kelvin Wells, Sussex
The third place award recognizes a team of agents who provided timely recertification meetings.  These agents used a combination of presentation methods and technology which kept those in attendance engaged in the training. The variety of presentation methods allowed the participants to interact with the presenters, thus, enhancing the quality of the program.  One reviewer wrote, "…very innovative in that [they] used all of the tools in the tool box".
Comments from the program's evaluation included "Instructors were very knowledgeable", "…was great".  According to one participant, the "Interaction" was the most valuable part the meeting.  Ninety percent of attendees rated this meeting as excellent or very good.
VDACS Commissioner Sandra J. Adams and Deputy Commissioner Charles Green presented each agent with a commemorative plaque and a gift basket of Virginia's Finest products on behalf of the Office of Pesticide Services.
Extension agents or district directors, Virginia Tech Pesticide Program personnel or VDACS' Office of Pesticide Services investigators interested in nominating someone for an award this year should contact the Office of Pesticide Services at 804.371.6558.